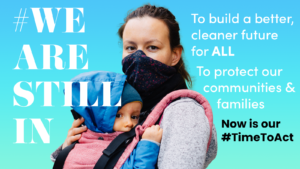 Dear Colleagues,
This year, we have suffered through extreme weather with record-breaking temperatures, dangerous wildfires, and deadly hurricanes. This extreme weather is devastating our health, environment and climate.
Under President Biden, the US will rejoin the Paris Agreement and prove that #WeAreStillIn. But there is still work to be done to combat the climate crisis. We are urging policymakers and the incoming administration to join the national response to enact significant change towards climate recovery.
Show your support, and join the fight: Sign the Petition!
The Alliance of Nurses for Healthy Environments and members of the
Climate Action Campaign coalition are urging legislators and policymakers to take bold climate action.
Add your name, and tell our leaders that it is time to #ActOnClimate: