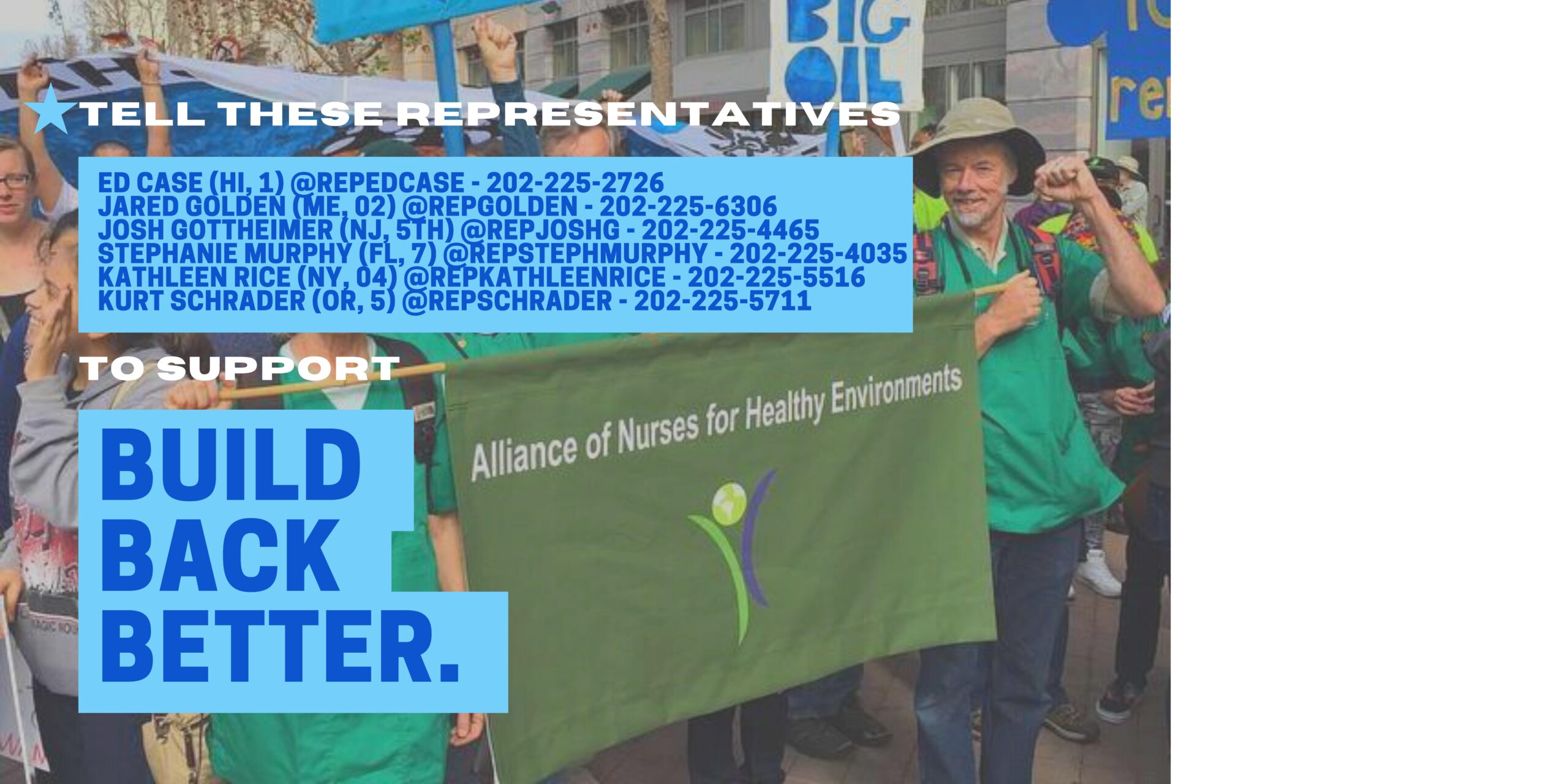 The Alliance of Nurses for Healthy Environments is asking you to make a phone call to these offices ASAP. Please also send the PRE-WRITTEN message below to your Representative urging them to support the Build Back Better plan and protect the health of our nation's communities.
Ed Case (HI, 1) @RepEdCase, 202-225-2726
Jared Golden (ME, 02), @RepGolden, 202-225-6306
Josh Gottheimer (NJ, 5th), @RepJoshG, 202-225-4465
Stephanie Murphy (FL, 7), @RepStephMurphy, 202-225-4035
Kathleen Rice (NY, 04), @RepKathleenRice, 202-225-5516
Kurt Schrader (OR, 5), @RepSchrader, 202-225-5711
Background:
On Nov. 5th, the House passed the Infrastructure Investment & Jobs Act (the bipartisan infrastructure bill or "BIF") but delayed a final vote on the Build Back Better Act (BBBA), largely due to opposition from conservative Democrats who said they would not vote for BBBA until they had seen the official "score" (aka cost) for the bill from the Congressional Budget Office (CBO). Speaker Pelosi received a commitment from five of them, via a letter, that they would vote for the BBBA as currently written as soon as they received "fiscal information" from CBO, but in no event later than the week of November 15th.
This means we have just a few more days to ensure these conservative Dems keep their word and vote YES on BBBA. We need to remind them that this is an opportunity to act on the issues they were elected to act on and to deliver for their constituents!  Just in case you want to see what the BBBA will do, here's a primer on the transformational climate investments included in BBBA and why we need it to tackle the climate crisis!
Talking points for your call: 
To fight the climate crisis, create millions of new good-paying clean energy jobs, and build the foundation of an equitable and thriving clean energy future: we need the Build Back Better Act.
The bipartisan infrastructure bill on its own fails on climate—full stop. It makes no meaningful reductions in carbon emissions, and shortchanges President Biden's commitments on other key environmental justice and climate issues.
Key parts of the bipartisan infrastructure bill (like electric vehicle charging stations, power infrastructure, and climate resilience) can only be unlocked if passed with the complementary, transformative climate investments in BBBA. We need to pass BBBA to take full advantage of the BID's climate benefits.
Climate action is the only fiscally responsible choice. Climate-fueled disasters are already costing us hundreds of billions of dollars every year—Hurricane Ida alone resulted in more than $64.5 billion in damages across the country—we can't afford to wait to act any longer.
(Relevant only when communicating with Case, Gottheimer, Murphy, Rice, and Schrader's offices) [Member Name] made a commitment to vote for the Build Back Better Act no later than the week of November 15th. Your constituents are watching, and they expect you to keep your word. Vote yes on Build Back Better when it comes to the floor.
And if you are on social media, Cut, Paste and Tweet!
Rep. Ed Case (HI, 1):
@RepEdCase, fulfill your commitment and deliver for your constituents by voting YES on #BuildBackBetter! The #ClimateCrisis is already taking a toll on Hawaii via impacts like coastal erosion and sea level rise – time to pass #BBBA NOW! https://nca2018.globalchange.gov/chapter/27/
---
Rep. Jared Golden (ME, 02):
@RepGolden, deliver for your constituents by voting YES on #BuildBackBetter! The #ClimateCrisis is already taking a toll on Maine via impacts like sea level rise and decreased fisheries – time to pass #BBBA NOW! http://climatecouncil.maine.gov/maines-climate
---
Rep. Josh Gottheimer (NJ, 05):
@RepJoshG, fulfill your commitment and deliver for your constituents by voting YES on #BuildBackBetter! The #ClimateCrisis is already taking a toll on New Jersey via impacts like sea level rise, extreme heat, and coastal flooding – time to pass #BBBA NOW! https://statesatrisk.org/new-jersey/all
---
Rep. Stephanie Murphy (FL, 07):
@RepStephMurphy fulfill your commitment & deliver for your constituents: Vote YES on #BuildBackBetter! The #ClimateCrisis is taking a toll on FL via impacts like sea level rise, severe hurricanes, ocean acidification & coral bleaching. Pass #BBBA NOW! https://sealevelrise.org/states/florida/
---
Rep. Kathleen Rice (NY, 04):
@RepKathleenRice fulfill your commitment & deliver for your constituents by voting YES on #BuildBackBetter! The #ClimateCrisis is already taking a toll on NY via impacts like sea level rise, bigger storms, flooding & coastal erosion. Pass #BBBA NOW! https://statesatrisk.org/new-york/coastal-flooding
---
Rep. Kurt Schrader (OR, 5)
@RepSchrader fulfill your commitment & deliver for your constituents: Vote YES on #BuildBackBetter! The #ClimateCrisis is taking a toll on OR via impacts like rapid warming, decreased snowpack, increased wildfires & coastal acidification. Pass #BBBA NOW! https://www.opb.org/article/2021/01/12/climate-change-oregon-effects/
---