We are in a new dawn regarding environmental health in the US and, in fact, globally. The public awareness and interest in all things "green" is creating a demand for nurses to understand the relationship between human health and the environments in which we live, learn, work, and play. We have moved beyond questioning the science of whether we are in environmental health peril to almost unanimous consensus that we must act and act now on many of the risks we are all experiencing.
Nurses, who are one of the most trusted sources of information by the public, must be in a position to both respond to questions about the environment and its relationship to health with credible, evidence-based information, as well as provide leadership in making the necessary changes in our policies and practices. To that end we must prepare nurses to be a cut above the average citizen with regard to their knowledge of environmental health issues.
The Mission of ANHE: Promoting healthy people and healthy environments by educating and leading the nursing profession, advancing research, incorporating evidence-based practice, and influencing policy.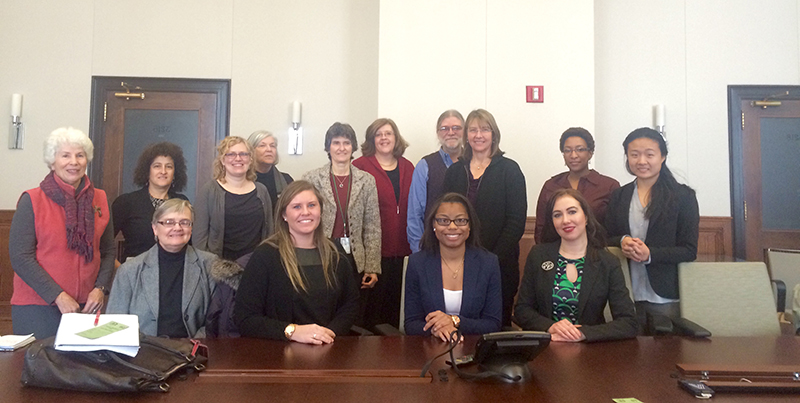 ANHE Nurses at the EPA to discuss importance of Clean Air
The History of ANHE
In December 2008, fifty nursing leaders were selected to represent the nursing profession at a 4-day, invitational meeting to develop a strategic plan for environmental health nursing. They represented the following: nursing sub-specialty organizations ranging from nurse midwives, school nurses, and nurse practitioners, to critical care, neonatal, and public health nurses: state nursing associations; as well as the national organizations of Black and Hispanic Nurses Associations. While there were many small accomplishments at this meeting, the two that stand out are the following:
A national organization was born – the Alliance of Nurses for Healthy Environments
An organizational structure was constructed and 4 main Work Groups were created to begin the important work of this new Alliance: Education, Practice, Research, and Policy/Advocacy.
In June of 2009, ANHE developed a guiding document that drives the work of the work groups. Read: the ANHE Wingspread Statement
The Alliance is growing as nurses from around the country, and the world, join the Work Groups to participate in meaningful national efforts. Each of the Work Groups holds monthly or bi-monthly calls. All nurses are encouraged to join these calls. To find out more about the Work Group activities, please see the individual Work Group pages at the links below
The Education Work Group is developing curriculum materials for nursing schools and for continuing education. They are also writing a free, on-line nursing text on environmental health: the Virtual Text.
The Practice Work Group is sharing resources for nurses who are "greening" their hospitals and other health care facilities, as well as developing best practices and model policies to decrease unnecessary environmental exposures in our workplaces. They are also exploring standard practices that recognize environmental exposures as a determinant of health.
The Research Work Group is are also promoting more nurses researchers in this area, mentoring new researchers, and sharing information about funding sources.
The Policy/Advocacy Work Group is addressing environmental health policies at the state and national level and helping to mobilize the nursing community to support policies that encourage citizen knowledge about potential hazards through "right to know mechanisms", reduce/eliminate known and suspected hazardous chemicals that are in our air, water, food, soil, and products.
Together these Work Groups are coordinating their efforts and reaching out to nurses around the country. The Alliance of Nurses for Healthy Environments welcomes any and all nurses who are interested in the environment to join the Work Group that best reflects their interests.
ANHE Board of Directors
The ANHE Board is comprised of seven members and all are nurses. Learn more about our Board here: ANHE Board of Directors.
ANHE Steering Committee
Much of the guidance for ANHE activities comes from our Steering Committee. The Steering Committee is comprised of representatives from a number of nursing organizations, the Work Group Chairs, and the Board of Directors. All ANHE members are invited to join these calls. The call days and times will be posted on our Events Calendar.
If you have any questions or comments, please contact Katie Huffling – ANHE Executive Director: katie@enviRN.org or 240-753-3729.
The Alliance of Nurses for Healthy Environments is a joint plant of work with Virginia Organizing, a 501(c)3 non-profit which accepts tax-deductible financial contributions on our behalf.
Virginia Organizing is officially registered with the Department of Agriculture and Consumer Services, P.O. Box 1163, Richmond, VA 23209.  You can write to this Department for all relevant financial statements and procedures regarding the solicitation of contributions.  Your donation is tax-deductible to the extent allowed by law.
Learn more about Virginia Organizing.
Mailing Address:
Alliance of Nurses for Healthy Environments
2901 Shepherd Street
Mount Rainier, MD 20712
240-753-3729