Welcome to the Practice Work Group!
All nurses practice, whether it is in clinical care, patient education, academia, research, entrepreneurialism, or other roles. Additionally, the profession has a performance standard whish states "The registered nurse practices in an environmentally safe and healthy manner."  This applies to all of us, no matter where the profession takes us.
The Practice Workgroup offers webinars and networking to help nurses achieve "environmentally safe and healthy" practice. We can do this by learning about health influences from environmental exposures so that we can care for patients safely; by reducing the environmental impacts of our own practice, from hospitals to universities to homes; and to better understand the complex influences of the environment (and its degradation) on health, including climate, toxic chemicals, ecosystem disruption, and resource depletion.
Sign up for our workgroup listserve so you can stay up to date with our activities: Sign up!
If you have any questions or would like more information please contact Katie Huffling 240.753.3729 or katie@enviRN.org
Practice Workgroup Chair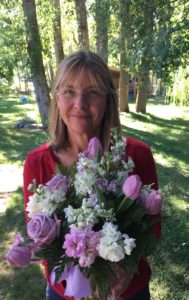 Beth Schenk, PhD, MHI, RN-BC
Providence-WSU Nurse Scientist
Missoula, Montana
Elizabeth Schenk, PhD, RN, FAAN is the Executive Director of Environmental Stewardship for Providence, a health system with over 50 hospitals and 1000 clinics. She is instrumental in helping advance the organization toward its goal of becoming carbon negative by 2030, through the conservation of resources, education, and research. Beth is assistant research professor at Washington State University College of Nursing. She led the development of CHANT: Climate and Health Tool, measuring health professionals' awareness and engagement with climate change and health. CHANT has been translated to several languages and used in over 30 nations. She developed the WE ACT Framework (Waste, Energy/water, Agriculture/food, Chemicals, Transportation) to organize the extensive range of environmental stewardship, while motivating action. As a board member of the Alliance of Nurses for Healthy Environments, she hosts the Nurses for Healthy Environments podcast. She is on the boards of Montana Health Professionals for a Healthy Climate and Climate Smart Missoula. Beth has been honored with the Charlotte Brody Award, as a distinguished alumnus from the University of Montana, and as a Fellow in the American Academy of Nursing.