Last week at CleanMed 2018, the Alliance of Nurses for Healthy Environments' (ANHE) executive director Katie Huffling was awarded the 2018 Charlotte Brody Award. This award recognizes nurses who demonstrate a commitment to and have achieved ex
cellence in their efforts to promote and protect environmental health.
As a nurse-midwife, Huffling has always held an interest in how environmental factors impact maternal and birth outcomes. Caring for mothers in the Washington, DC area, Huffling was adamant about educating her patients about how to protect themselves during extreme heat and poor air quality days. She has also been involved in advocating for safer chemical policy to reduce exposures to toxics substance, especially for some of our most vulnerable populations, pregnant woman, the developing fetus, and children.
As the executive director of ANHE for eight years, Huffling has been instrumental in educating nurses on how environmental exposures impact human health and the role of nurse in addressing those concerns. Huffling was the driving force behind organizing a White House roundtable on climate change and health for nurses in 2017 and a signing of a memorandum of understanding between ANHE and the U.S. Environmental Protection Agency. Read her acceptance speech below .
"Thank you. I am so incredibly honored to receive the Charlotte Brody award and to be presented by Laura Anderko – whose work in environmental health nursing has been such an inspiration and mentor to me.
It was actually Charl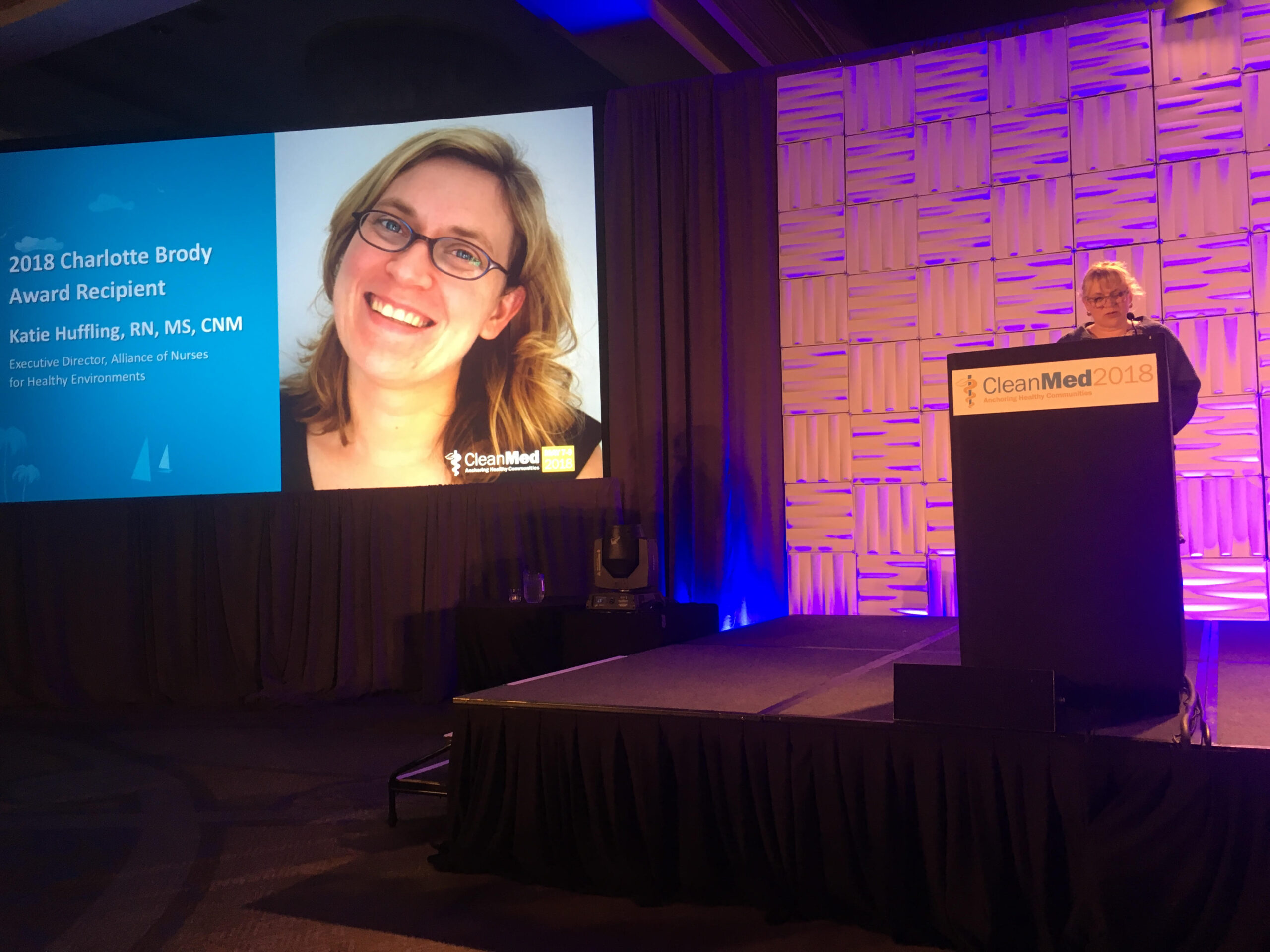 otte Brody's work with the first comprehensive testing of the body burden of chemicals in the human body that first sparked my deeper interest in environmental health issues. Here was a nurse who was doing everything right – eating organic foods, not using pesticides, using less toxic cleaning products – and still they found measurable amounts of over 85 industrial chemicals associated with a wide range of negative health effect
With the release of the cord blood testing of newborns, that showed a myriad of industrial chemicals in their little bodies, my fate was sealed. As a nurse-midwife, I knew that I wouldn't be able to do my job of helping women have the healthiest pregnancies and the healthiest babies possible without working to reduce their unwitting exposures to the chemicals we're all exposed to in everyday life. I immediately started working on an assessment tool that providers could use with their patients to assess for exposures as well as provide guidance on how to reduce them.
When the opportunity arose to focus on environmental health full time with the Alliance of Nurses for Healthy Environments or ANHE, I jumped at the chance. While there are times when I miss those personal interactions with my patients – hearing the baby's heartbeat for the first time or helping mother's learn how to breastfeed – I realized that this job provides me with the amazing opportunity to impact the health of millions of women and families through my interactions with ANHE nurses, instead of the few I would see every day in private practice.
I have the privilege of working with nurses from all around the country, who inspire me every day with their dedication and enthusiasm for making the world a healthier place for all. Through our work with ANHE we are bringing together the voices of the almost 4 million nurses in the US to use our collective strength as the most trusted profession bringing about positive change on the most pressing environmental health challenges facing us today.
It was ANHE nurses that led the charge to hold Pennsylvania accountable when it was discovered that health complaints to the health department related to fracking were being ignored. Through our work, changes were made to make sure these complaints were addressed. When we were working to reform the Toxic Substances Control Act, it was nurses who convinced a key Senator to sign on as a co-sponsor of the reform bill. In 2016, we held the first of its kind roundtable at the White House to discuss the roles nurses could play in addressing climate change. It was gratifying to see the Administration recognizing the vital roles nurses need to play in climate and health strategies.
And we are just about to enter into the 10th anniversary of ANHE, I can't wait to see what amazing things ANHE nurses will be doing in the next 10 years. I can just imagine the positive change we can bring in this world."