The eighth and final Generation Chemical webinar. Climate Change and Reproductive Health will take place on Tuesday, July 27 at 10am PDT/1pm EDT. Speakers will include Nathan DeNicola, MD, MSHP, FACOG, Bruce Bekkar, MD, Matthew Franks Chersich, PhD, Mona Abdo, MPH, and James Crooks.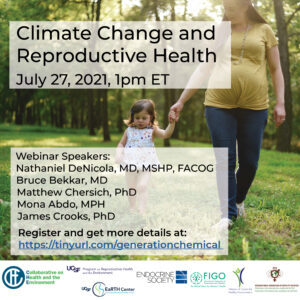 Register and get more details at https://tinyurl.com/generationchemical
Please visit the event landing page for more information and to view recordings of past webinars.
This webinar series is brought to you by @CHEnvironment, UCSF PRHE and the EaRTH Center, @theendocrinesociety, @FIGOHQ, @iffsfertility and the Alliance of Nurses for Healthy Environments.