ANHE Also Releases Report, "Climate Change, Health, and Nursing: A Call to Action," Highlighting Urgency of Addressing Climate Change Health Impacts Nurses Are Seeing and Treating Every Day
WASHINGTON, DC – Today, the Alliance of Nurses for Healthy Environments (ANHE) launched a partnership with the U.S. Environmental Protection Agency (EPA) to address the increasing health challenges nurses and their patients are facing from climate change and its impacts, including rising asthma rates and premature death.   EPA Administrator Gina McCarthy signed a Memorandum of Understanding (MOU) this morning with the Alliance of Nurses for Healthy Environments (ANHE) to create a new alliance between health care workers and the federal agency charged with protecting American's public health.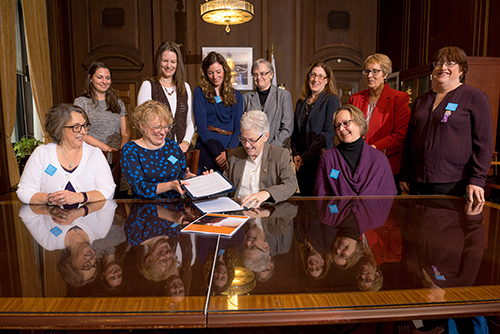 "From the time I was a small town public health official to my tenure as EPA Administrator, it has been apparent that limiting pollution is a health issue, particularly for communities of color and other vulnerable communities. I have always engaged health care workers in the fight to protect the environment because they are on the front lines and see the impacts of environmental challenges up close each and every day," said EPA Administrator Gina McCarthy. "We are proud to partner with the Alliance of Nurses for Healthy Environments because they are leading the charge in addressing health issues associated with climate change, air pollution problems and other threats to our health and wellbeing."
Today's MOU signing solidifies EPA's long-standing commitment to public health and, specifically, creates a framework for ANHE and the EPA to work together on projects and activities that increase nurses' climate change knowledge and training in order to combat climate change related health problems. Coinciding with the signing of the MOU, ANHE also released a new report entitled, "Climate Change, Health, and Nursing: A Call to Action," which details how nurses and other health practitioners can take climate action.
"As a nurse-midwife, I've dedicated my career to protecting the health of women, infants, and families. I, like many health care practitioners, are seeing the very real impacts of climate change on our patients on a day to day basis and we know our responsibility doesn't end when our patients are discharged," said Katie Huffling, Director of the Alliance of Nurses for Healthy Environments. "As highlighted in our new report, we need strong action to address climate change. Otherwise, the health of women and children will continue to see significant and increasingly negative impacts, including poor pregnancy outcomes, increased risks of vector-borne diseases such as Zika, and particularly increased risks of acute asthma and allergies. I support the efforts of the EPA to address climate change and encourage the new administration to continue and expand these efforts."
The ANHE report details how different socio-economic groups, across various regions in America, are impacted by climate change. It also outlines how nurses can proactively take climate action. Among its recommendations, it says that nurses can and should:
1.     promote nurse licensing requirements to include climate change related public health questions;
2.     educate patients and their families and the communities they serve about climate change, the associated health effects, and ways in which to address climate change
3.     encourage renewable energy and the use of local produce in their surrounding communities;
4.     become involved in local emergency preparedness measures; and
5.     contribute to leading academic research on how climate change impacts public health
The report and MOU are the result of discussions that took place between nurses and Administration officials at the "2016 Climate Change, Health, and Nursing White House Summit," which discussed the intersection of climate change and public health consequences. Whether it is healing the sick injured during extreme weather and natural disasters, treating those affected by air and water quality problems, or those suffering from extreme heat, today's nurses are on the front lines of climate-change induced public health problems. As America's first line of defense, nurses will work with the EPA and other federal government agencies to improve the lives of children, adults, and the elderly across the country. They will specifically combat climate change through ANHE's model of research, patient education, advocacy, and practice.