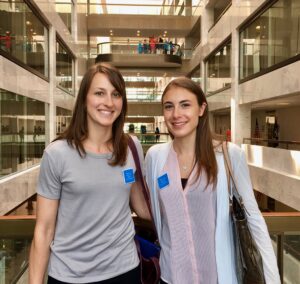 The last profile of Nurses Week follows Katie Cortes and Julie Kleber, both registered nurses on the bone marrow transplant unit at Memorial Sloan Kettering Cancer Center and sustainability advocates.  
 While Memorial Sloan Kettering (MSK) Cancer Center has a robust hospital-wide sustainability program and Green Team focused on project initiatives such energy efficiency, recycling, reducing waste, sustainable foods, and green cleaning products, Katie Cortes and Julie Kleber saw an opportunity to engage staff at a local level in sustainability initiatives. Their vision was to engage more nurses on their unit in the broader institution-wide initiatives and was the driving force behind forming a unit-based sustainability committee, a subcommittee of the MSK staff engagement committee.
Through the unit committee, Katie and Julie have successfully implemented initiatives in the areas of paper reduction, reducing energy consumption, waste diversion, and recycling. An example of some of these successes in each target area include:
Paper Reduction: Through their education and advocacy efforts, they were able to get the center's supplier to switch to 30% recycled paper and change practice so that staff are more likely to use e-faxing versus the standard fax machine.
Energy Efficiency: For computers in the nurses' station that are not used overnight they have instituted an automated shutdown from 10pm-6 am to reduce energy use.
Waste Reduction and Recycling: The two have conducted staff education on proper waste segregation and recycling, as well implementing a designated bin so that unopened medical supplies that would otherwise be thrown out can be donated to the AFYA Foundation
One of their most recent unit sustainability efforts was an Earth Week challenge, in which they encouraged staff to bring their own utensils to work and educated co-workers on the harm that single-use plastics have on the environment. They will be conducting a survey after the challenge to elicit feedback and measure the extent of staff engagement and participation. The feedback they've already received has been positive and successful in helping to reduce plastic use on their unit.
Both Katie and Julie are driven by a passion to help educate others on how the environment impacts human health, as well as their ability to help others make more sustainable choices. To close off Nurses Week Julie leaves us with some inspirational advice, "There are strategies and steps we can all take to sustain our lifestyles without harming the environment, and to quote the Dr. Suess book, the Lorax, 'unless someone like you, cares a whole awful lot, nothing is going to get better. It's not.'"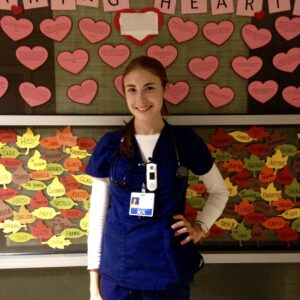 Katie Cortes, BSN, RN, OCN is a staff nurse on the bone marrow transplant unit at Memorial Sloan Kettering Cancer Center. She joined her hospital's Green Team in 2016 and later co-founded a sustainability committee on her unit. In this role, Katie works with committee members to develop, promote, and educate staff on sustainability initiatives including energy efficiency, waste/paper reduction, and recycling within the healthcare setting. Katie earned her undergraduate degree from Molloy College and is a prospective student of Hunter College's MS program in Community/Public Health Nursing.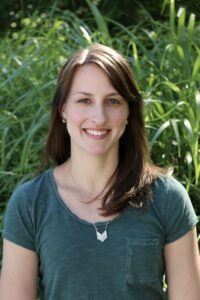 Julie Kleber, BSN, RN, BMTCN is a Registered Nurse on the Bone Marrow Transplant Unit at Memorial Sloan Kettering Cancer Center in New York City. She earned her Bachelor's Degree in Nursing with a minor in Leadership from Gannon University in 2011. She is slated to complete an Environmental Heath Certificate in May 2018 through the University of Maryland School of Nursing. She is an active member of ANHE and theOncology Nursing Society (ONS), serving in a local leadership role. You can learn more and connect with her on her LinkedIn page.