As part of our mission, the Alliance of Nurses for Healthy Environments has focused on advancing educational opportunities for nursing students to expand their leadership in environmental health. We recognize that as the next generation of nurses, nursing students are seeking opportunities to get involved with initiatives that address global environmental health challenges, which is why this year ANHE launched the Student Nurse Environmental Health Leadership Award. This Award, in partnership with the National Student Nurses Association, aims to recognize a nursing student who demonstrates outstanding commitment and environmental health leadership through action and advocacy and goes beyond everyday nursing endeavors to proactively promote and protect environmental and human health.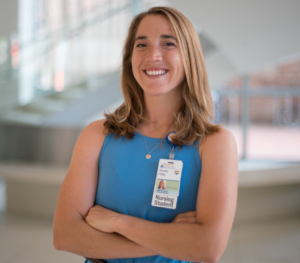 ANHE is pleased to present the 2022 Student Nurse Environmental Health Leadership Award to Amelia Kirby, a student nurse in the clinical nurse leader program at the University of Virginia. Amelia graduated this May and will be relocatingto Denver, CO to work in the Emergency Department at a local hospital. 
With previous experience in the non-profit sector, Amelia was looking for a career path that would allow her to help people in a more personal way which is what led her to nursing. As an undergraduate, she was always very climate conscious, however it wasn't until nursing school at the University of Virginia that a couple of nursing faculty members helped her realize the overlap between climate change and health. As a nursing student, Amelia was recognizing that climate change was set to become an unignorable issue in population health. "We are entering the phase of climate change being inevitable. We as nurses at the front lines are going to see and treat climate-related health impacts and to not incorporate these concepts into nursing curriculum is a disservice to nursing students", Amelia stresses. However, she realized that healthcare institutions were still in what she terms an orientation phase, in which many people in health systems were trying to figure out how to incorporate climate solutions within healthcare and the role of the health sector in addressing climate change. 
Amelia saw an opportunity to help overcome this challenge through the advancement of nursing education. She learned about the Planetary Health Report Card, a tool created in 2019 by University of California San Francisco medical students as a way to evaluate individual programs in integrating planetary health concepts. What she noticed is that there wasn't a similar tool that could be applied to nursing so she sought out to develop one. Through her involvement with the Planetary Health Alliance, Amelia has helped lead an international team of nurses, nursing professors, and students from four nursing programs to develop the nursing version of the Planetary Health Report Card (PHRC). After the year-long development process, each of the four institutions piloted the PHRC for Nursing and published a summary of findings. Amelia is hoping that other nursing institutions will adapt and utilize the PHRC. She emphasizes the PHRC is not meant to compare against other schools, but rather a way for schools of nursing to have demonstrable data and metrics to show progress each year. 
The PHRC is also meant to be student-led. "At its heart it should be a student-led initiative and it should be filled out by a student – which is what makes it most powerful", says Amelia. As a student-driven initiative, the PHRC has the potential to rapidly transform nursing curriculum globally, leading to climate change and planetary health knowledge for every graduating nurse. Amelia hopes her story inspires other nursing students to see the opportunity for leadership within themselves and the power that the student nurse voice holds. "We are the incoming generation of nurses, at a time when nurses are so desperately needed we forget how much power we have as nursing trainees", Amelia emphasizes. "The cards are in our hands to shape nursing curricula and most programs are supportive of nursing students doing so." Learn more about the PHRC for Nursing and how student nurses and nursing faculty can implement this initiative within their nursing institution.
 Stay tuned for an announcement from ANHE in the Fall about the open call for applications for the 2023 Student Nurse Environmental Health Leadership Award.
About Amelia Kirby: Amelia Kirby helped lead a team of nurses, nursing professors, and nursing students to develop the nursing version of the Planetary Health Report Card. The PHRC is a tool designed to measure and initiate positive change toward climate health in medical institutions. This initiative is the first of its kind for nursing programs, and will be piloted with five institutions this year. She also serves on the planning committee for the University of Virginia Climate Change and Health Conference.
Along with the PHRC initiative, Amelia serves as the nursing chair of the Student Clinicians for Climate Action club at her school, and is a student representative for the Virginia Clinicians for Climate Action. She sits on the UVA Health System Sustainability Committee as a student liaison, which is an interdisciplinary program aimed at developing better sustainable practices in the hospital.