Climate and Environmental Health: Community Education Aimed at Rural Communities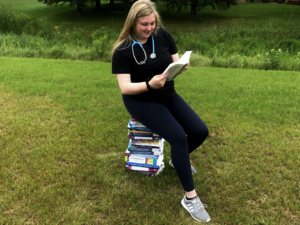 This past summer, senior 2 student nurse, Payton Kaldenberg, and Assistant Professor, Pamela Guthman, from the College of Nursing and Health Sciences at the University of Wisconsin-Eau Claire embarked on a project to provide education about the relationship between climate and health to three rural communities by partnering with the local newspaper that serves that region. The overall goal of the project was to raise awareness and inform rural communities about climate change and connect how rural population's health are impacted by changes occurring due to climate change.
Kaldenberg and Guthman teamed up to write weekly articles for publication in the Cornell Courier Sentinel from June 15th through August 15th. Kaldenberg was responsible for conducting research and writing the first drafts and then working with Guthman to submit the articles to the newspaper's editor for publication. The weekly topics focused on extreme heat events, air pollution/air quality, water quality, Lyme disease, soil health, and the role of the nurse in planetary health.  Extreme heat events were noted to be increasing even in northern Wisconsin, and can lead to significant stress to outside workers, including farmers, and others who need to prevent dehydration, heat exhaustion and heat stroke. Air pollution and the importance of air quality was highlighted specific to noting increasing asthma rates from allergies or exposure to air pollution of particulate matter of 2.5. Water quality was discussed to elevate the importance of having clean water to drink, noting the importance of water for recreation including tourism and economic survival of small, rural towns. Vector-borne illnesses such as Lyme disease was noted to have increased over the last decade due to warming temperatures leading to ticks (and other vectors) extending into locations that previously did not have vector-borne illnesses. Soil health was addressed to highlight the importance of biodiversity as an important rural agricultural component for farmers land and crop production, but is experiencing significant challenges given the intensity of rain fall, flooding, and drought causing the need for changes to land and soil management. Lastly, identifying public and community health nurses are called to exhibit leadership and have an ethical responsibility to work with their communities to learn about climate change, the relationship to their populations' health, and solutions to address climate and health related issues.
The ability to measure the educational impact made on these rural communities is difficult to measure. However, anecdotally, a few community members noted how they were able to better understand the relationship between their asthma and climate change. Community-focused education provided by community and public health nurse leaders and students can not only start the discussion but also aid  in readying rural communities to engage in changes to combat climate change occurring from fossil fuels. It is imperative engaged community leaders are proactive to enhance their understanding about the reality of the impacts of climate change on the health of people residing in their own communities' health. Nurses have a social and ethical responsibility to prevent and protect their communities and populations, especially as we recognize that we are facing the largest existential threat to our human health and overall survival of the next generation.
Project Poster can be viewed here. Reference List can be found here.
Payton Kaldenberg is a senior 2 nursing student at the University of Wisconsin-Eau Claire (UWEC). She is set to graduate with honors on December 19th, 2020. She has been working for the Eau Claire City-County Health Department as a disease investigator since the beginning of June to help stop the spread of COVID-19. Throughout her time in school, she has been a member of several organizations on campus, including National Society for Collegiate Scholars and Eau Claire Student Nurses Association. Additionally, she is a member of the National Student Nurses Association (NSNA) and the Wisconsin Health Professionals for Climate Action. In June of 2020, she received the Gritzmacher Award from UWEC to support a nursing project that focused on community education for rural communities on climate change and its effects on human health. The project went on to be selected for a poster presentation at NSNA's MidYear Conference in October of 2020.
Pamela Guthman, DNP, RN-BC is an assistant professor at University of Wisconsin-Eau Claire, College of Nursing and Health Sciences. She has also taught for UW-Madison, School of Nursing and pre-pandemic taught the rural immersion population health nursing program. She has spent much of her career practicing rural community and public health nursing with a focus on the determinants of health, health equity, poverty, and population health. She currently serves as Vice-Chair with the Wisconsin Health Professionals for Climate Action, is a member
of the Alliance of Nurses for Healthy Environments and serves as a mentor for Climate Reality.