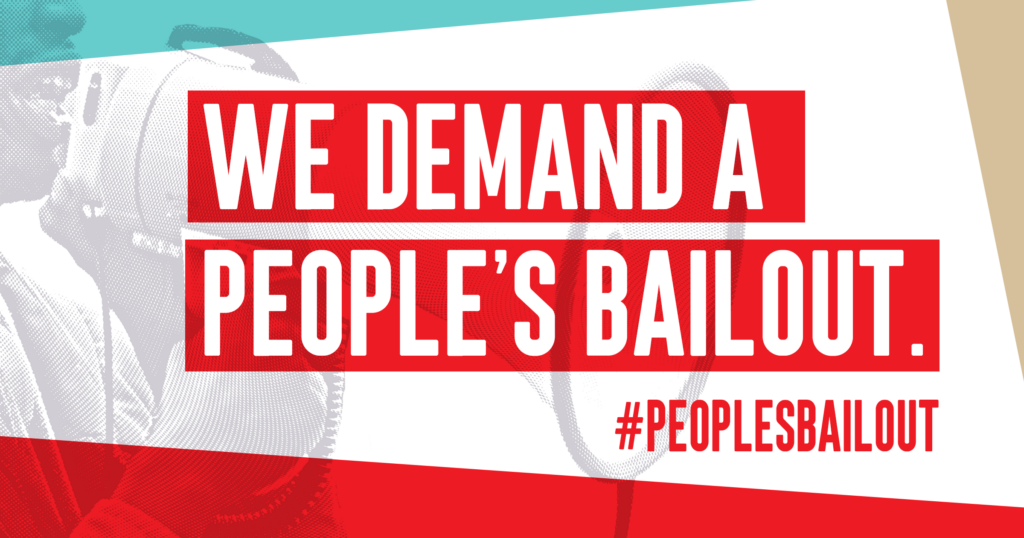 A message from ANHE Executive Director, Katie Huffling:
If you're like me, in these stressful times you've been looking for activities that will make a positive difference as we move forward as a nation to address COVID-19. One thing that all of us can do right now is to contact Congress and urge them to address the 5 Principles of the People's Bailout in all further bailout measures.
As nurses, grocery clerks, and so many other essential workers keep the country running, Congress is developing a relief and recovery package to address the effects of the COVID-19 pandemic. Americans need a People's Bailout that protects health, supports a sustainable future, pays bills, and creates good paying jobs.
Demand a People's Bailout that puts people to work and makes us stronger.
The People's Bailout includes 5 principles that protect families, communities and workers. The 5 principles are simple, clear and, most of all, grounded in care for all people:
Health is the top priority, for all people, with no exceptions.

Economic relief must be provided directly to the people.

Rescue workers and communities, not corporate executives.

Make a down payment on a regenerative economy while preventing future crises.

Protect our democratic process while protecting each other.
Contact your Member of Congress and demand they commit to the 5 principles for just COVID-19 relief and stimulus. 
The effects of the COVID-19 pandemic are laying bare the emptiness of America's economic and social safety nets. Millions are losing their jobs – and their ability to pay rent, pay bills, buy groceries. And many Americans will risk working while sick because they don't have paid leave or can't afford health care anyway.
This stimulus plan and any future relief packages must expand health protections for all, and get millions of people back to work in good jobs.
Contact your member of Congress today. And then share The People's Bailout with your community: friends, family, neighbors, co-workers.
This is a time when the power of care and community needs to shine bright. Together, we can prioritize health care, jobs, sustainability and democracy for all Americans