The Alliance of Nurses for Healthy Environments has partnered with Children's Environmental Health Network (CEHN) as part of the Children's Environmental Health (CEH) Movement. The CEH Movement is an education-to-action series developed around monthly themes to: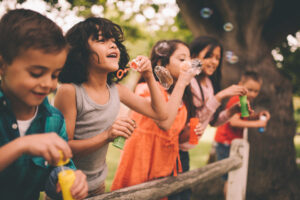 Increase awareness and understanding of children's environmental health among key audiences
Mobilize action on children's environmental health issues
Establish/expand the community and network of partners working on children's environmental health issues
You can learn more about the development of the movement and how CEHN is calling for urgent action to make children's health a priority by checking out A Blueprint for Protecting Children's Environmental Health: An Urgent Call to Action.
For July's theme, Children's Health and Climate Change Month, ANHE joins with GreenLatinos, Climate for Health, and CEHN to bring attention to how climate change disproportionately impacts children. Starting from when they are developing in a mother's womb and throughout the years as they grow into adulthood, children of all ages are more at risk to health impacts from climate-related events. By addressing climate change now, we have an opportunity to prevent disease and help our children live healthier lives.
It is important that nurses and other health professionals who care for children, are aware of the health risks posed by climate change. Nurses care for children in hospitals, doctor's offices, and in schools and can be instrumental in raising awareness to the unique vulnerabilities of children to climate change. By understanding the connection between climate and health, nurses can be adequately prepared to care for children affected by climate-related events and help families prevent harm.
Here are some specific actions nurses can take to address climate change and help ensure that children's health is protected:
Learn more about how climate change impacts children's health and how nurses can reduce their climate impact within their workplaces, homes, and communities. Check out these two great resources: 1) A Climate and Health Toolkit for nurses, and 2) Getting Started with Climate Solutions: A Guide for Nurses.
Advocate: Join us in an effort to support clean air and climate protections by telling EPA not to weaken existing clean car standards. Nurses and nursing students can add your name or organization's name to a sign-on letter in support of strong clean car standards.
Take Action! Join ANHE and Health Care Without Harm in a nationwide campaign to educate 5,000 health professionals on climate and health. Learn more about the Nurses Climate Challenge and register to become a Nurse Climate Champion: nursesclimatechallenge.org.
Join us and learn more about the CEH Movement and how you can put #ChildrenAtTheCenter!