FOR IMMEDIATE RELEASE 12/29/17
Contact: Cara Cook, Climate Change Program Coordinator, ANHE
cara@envirn.org
585.469.2383
The Alliance of Nurses for Healthy Environments Awarded 2017 AJN Book of the Year Awards in Environmental Health for etextbook, Environmental Health in Nursing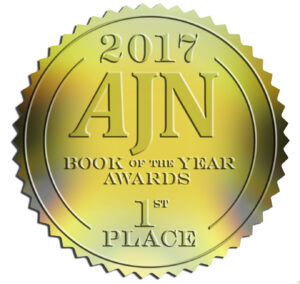 Washington, DC – The American Journal of Nursing, the "leading voice of nursing since 1900", announced their 2017 Book of the Year Award winners today in 19 categories encompassing various aspects of nursing practice. These awards serve as a way to acknowledge high-quality publications among the nursing profession. The Alliance of Nurses for Healthy Environments (ANHE) is honored to announce that the etextbook Environmental Health in Nursing (2016) was awarded first place in the environmental health category.
Environmental Health in Nursing, published by ANHE and edited by Jeanne Leffers, PhD, RN, FAAN, Claudia M. Smith, PhD, MPH, RN-BC, Katie Huffling, RN, MS, CNM, Ruth McDermott-Levy, PhD, MPH, RN, and Barbara Sattler, DrPH, RN, FAAN, is an evidence-based, peer-reviewed, and open access textbook for nurses and other health professionals that offers essential information on environmental health topics.
The textbook is freely accessible online and is divided into nine units, including topics such as toxic chemicals, climate change, and environmental health nursing advocacy and research. In this publication leading environmental health nursing experts have joined together to share their knowledge, expertise, and experiences.
"We are so pleased to be recognized by the American Journal of Nursing Book of the Year Awards", said Ruth-McDermott-Levy, ANHE education work group co-chair. "The ANHE e-text offers current environmental health information for nurses at all practice levels."
"We would like to thank each of the contributing authors and members of the four ANHE work groups, research, practice, education, and policy/advocacy, for their contribution to this textbook", said Katie Huffling, ANHE executive director. "Their passion and dedication to furthering nursing education on environmental health topics was essential to the development of this textbook."
"The environment and health are inextricably linked, yet nurses receive very little education on environmental health topics in undergraduate, graduate, and continuing education courses. We hope that all nurses across a variety of settings continue to find this resource valuable in efforts to educate nurses on the importance of the environment to health, to incorporate concepts into nursing curriculum, and to advance nursing practice."
The Alliance of Nurses for Healthy Environments is currently working on a second edition of the online textbook. If you are interested in contributing to this edition please contact education work group co-chairs Ruth McDermott-Levy and Kathryn P. Jackman-Murphy.
###
The Alliance of Nurses for Healthy Environments is the only national nursing organization focused solely on how the environment impacts human health. The mission of ANHE is to promote healthy people and healthy environments by educating and leading the nursing profession, advancing research, incorporating evidence-based practice, and influencing policy. http://enviRN.org