Are you a nurse interested in how the environment impacts human health? Want to help make a difference in communities around the country most impacted by environmental hazards? Want to work with fun, passionate, and supportive nurses? If yes, then we'd love to have you join our team.
ANHE's Mission: Promoting healthy people and healthy environments by educating and leading the nursing profession, advancing research, incorporating evidence-based practice, and influencing policy.
The Alliance of Nurses for Healthy Environments (ANHE) is the only national nursing organization focused on the intersection of human health and the environment. Our vision and principles that guide our work can be found here. This statement emphasizes that "ANHE's environmental health work is rooted in scientific evidence and science, the imperative to do no harm, and commitment to diversity, inclusion, collaboration, equity and justice driven by compassion and human caring."
We're hiring a Program Manager, Climate & Energy Advocacy
For position description, details, benefits and how to apply, view the job posting here or click on the post below. Please share this opportunity throughout your networks.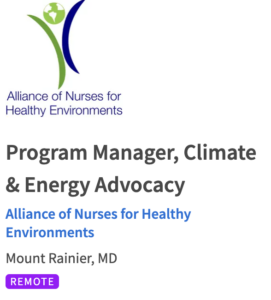 ANHE is an equal opportunity employer and encourages those from diverse backgrounds to apply.