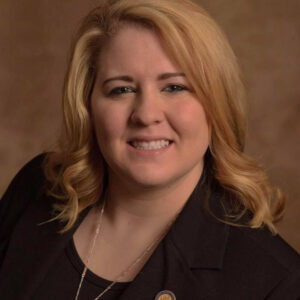 Today's Nurses Week Profile follows Jennifer Kalenkoski, a registered nurse at the Mayo Clinic and Immediate Past President of the National Student Nurses' Association (NSNA).
During her time as President of NSNA, Jennifer was instrumental in ensuring that environmental health topics were incorporated into educational offerings for student nurses. She indicated that this interest stemmed from her experience attending the International Council of Nurses (ICN) Congress in Barcelona, Spain last year. "As a student nurse, I still find topics that I haven't heard of or haven't ever connected the two with nursing", Jennifer states. "When listening to a focus session at ICN about climate change and how it correlates to healthcare, I was inspired to bring this back to the NSNA membership to raise awareness and show the options we have as students to spark a change."
Seeing the need for nursing students to be aware of this important topic she advocated for inclusion of a session focused on climate change into the NSNA 2018 Annual Convention. After the session on climate change at the NSNA Convention, Jennifer noted that the feedback was similar to her experience and showed that many nursing students are not exposed or educated on environmental health topics. As part of her continued leadership with NSNA as immediate Past President she hopes to further create opportunities for students to learn more about topics, such as climate change. "Although we are in the early stages of educating our membership on environmental health topics, I am proud to see the start and the interest it has generated within nursing students," Jennifer stated.
Jennifer is also a strong advocate for students to be aware of the environmental factors that impact health so that they are adequately prepared to address the health issues that they will see in nursing practice.  As the next generation of nursing professionals, student nurses have the opportunity to take up the mantle in tackling some of our most pressing health challenges, and she is helping to lead that charge.
Jennifer Kalenkoski is currently a Registered Nurse on the Medical Cardiology Progressive Care Unit at Mayo Clinic in Rochester, MN. She graduated with an Associate Degree in Nursing (ADN) from Lehigh Carbon Community College in Schnecksville, PA in May of 2017. Currently, she is in an RN to BSN program at Central Methodist University in Fayette, Missouri. Recently, she served as the immediate past President of the National Student Nurses' Association (NSNA) which has led her to have an increased interested in nursing students and building a foundation for the future of the nursing profession.  After completing her term, she become a member of the Minnesota Organization of Registered Nurses (MNORN) where she is continuing her skills learned from NSNA in hopes to contribute to the nursing profession in a way that advocates change and a better future for our patients.