By: Bria Jenkins, BSN, RN
Each year The Lancet Countdown: Tracking Progress on Health and Climate Change, an international research collaboration that monitors and reports annually on the relationship between health and climate, and its implications for national governments, releases an annual report. Country specific briefs alongside the Global Report, present relevant findings and highlights the key threats and opportunities climate change poses for health. For the month of January, we will be delving deeper, highlighting four critical insights showcased in the 2020 US Brief and recommended actions to protect health. Read the US brief here.
The Lancet's U.S. Policy Brief outlines several "critical insights" geared at painting the picture of the U.S.'s trajectory related to the health implications of climate change. In January, we are exploring a few of these to understand what they mean and most importantly, what they mean for the health of our communities moving forward. Last week we focused on Critical Insight #2: Climate Action in Agriculture can Reduce Air Pollution and Minimize Climate Change (view blog here).
Critical Insight #3: Zero-Carbon Energy Will Improve the Quality of Our Air & Protect Vulnerable Communities
The production and use of fossil fuels – coal, oil, and natural gas – generate pair pollution that could in turn harm health and increase GHGs that drive climate change. Some of the major sources of fossil fuel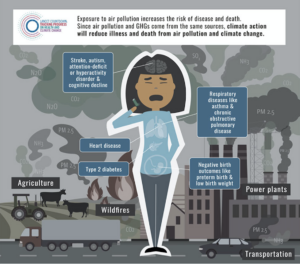 emissions come from agriculture, energy generation and power plants, and transportation. Unfortunately, US fossil fuel subsidies are increasing and locking in our country's dependence on fossil fuels. While we're making strides toward this – in 2015 the U.S. government identified 16 fossil fuel subsidies that amounted to $4 billion per year and committed to removing them by 2025 – we need to increase the momentum if we hope to effect real change in the near future.
What could this mean for us?
Exposure to air pollution increases the risk of disease and death.
Despite progress, estimations find that air pollution from fossil fuel led to between 50,000-100,000 early deaths each year in the U.S. Disproportionately so, in Black, Latino and Indigenous communities where there is increased exposure to the industrial air pollution.
Health risks imposed by fossil fuel air pollution look like: increased incidence of stroke, autism, ADHD and cognitive decline; respiratory diseases like asthma and COPD; heart disease, type 2 diabetes and negative birth outcomes like preterm birth and low-birth weight.
Air pollution exposure is not experience equally contributing to health inequities for communities of color and low-income communities.
So, what can we do?
In short, there needs to be a sustainable, dependable and AFFORDABLE, and just transition from dependence on fossil fuel energy to a healthier and vastly less impactful alternative – zero-carbon energy.
Communities that have been disproportionally burdened from air pollution and climate-related impacts and workers in fossil-fuel dependent communities must be involved in all levels of the decision-making process so that they also experience the benefits of transitioning to clean, renewable energy.
Source: Lancet Countdown on Health and Climate Change 2020: Policy Brief for the United States of America by Renee N. Salas, Paige Knappenberger Lester, Jeremy J. Hess. For more information, read the full brief here.