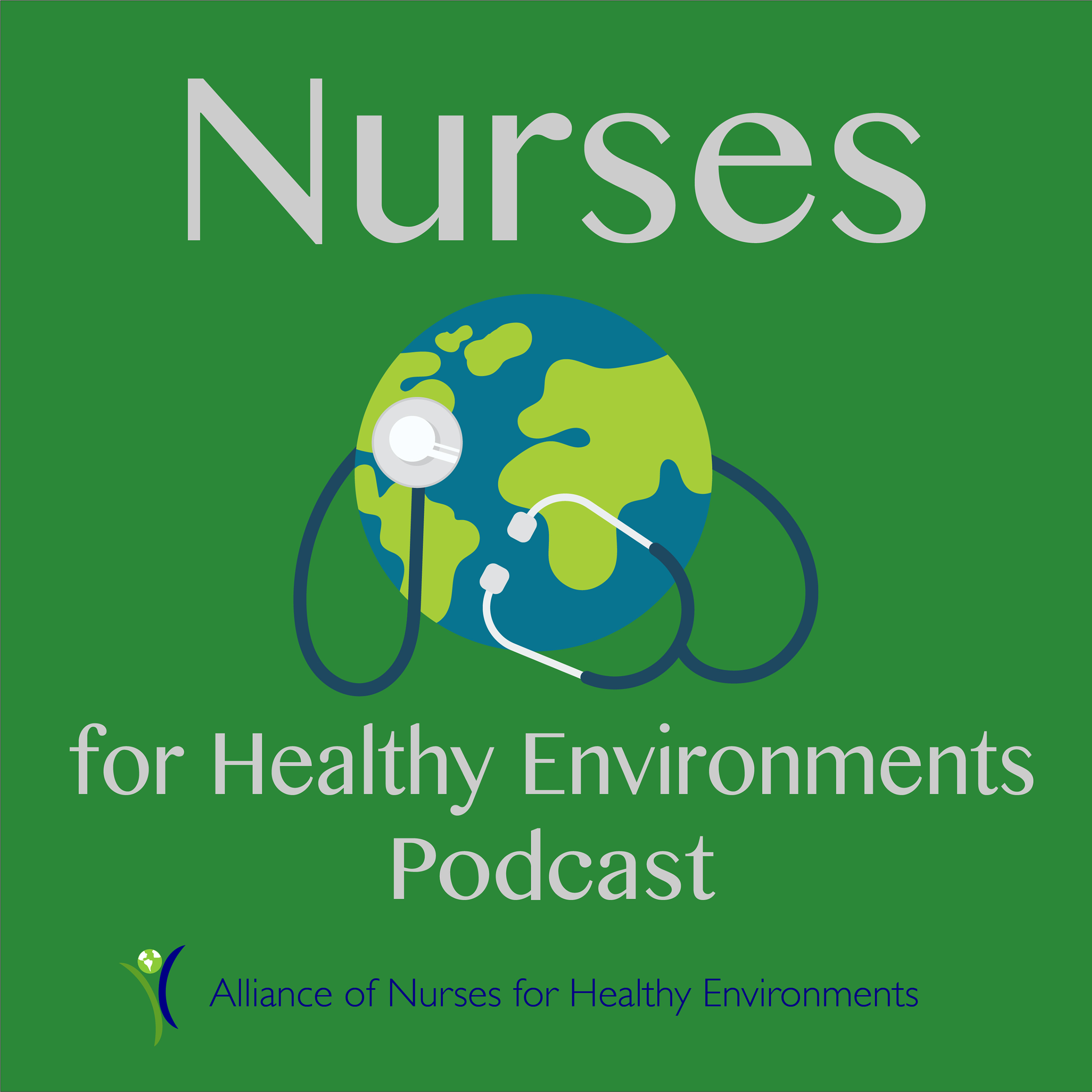 The National Student Nurses Association held its 70th annual convention in April 2022 in Salt Lake City, UT. At the convention, Shanda meets with four undergraduate nursing students from Case Western Reserve University who put forward a first-of-its-kind resolution to educate nursing students about the imperative to take action on health care decarbonization.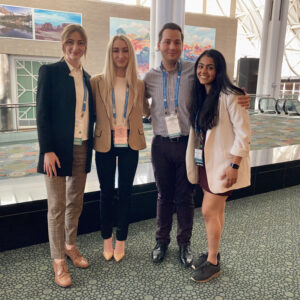 Megan Rodriguez, Junior BSN student  at Case Western Reserve University, originally from Indianapolis, IN. Megan is a Member of Alpha Chi Omega and a cellist in the Case Western music department. She is interested in pursuing obstetrical nursing after graduation. Megan states, "I believe the climate crisis is something every person can and should fight against. By rallying nurses for this cause, we are mobilizing one of the most influential groups of all. Healthy environments mean healthy people and I encourage you to get involved and advocate for change however you can."
Aleah Clements, Senior BSN Student from Bedford, Michigan studying at the Frances Payne Bolton School of Nursing at Case Western Reserve University in Cleveland, Ohio. She is a Senior Representative of the Undergraduate Student Nurses Association, a student-run organization within her nursing program. In 2021, Clements presented a resolution supporting increased education guiding the reduction of carbon emissions created by health care facilities, which jumpstarted her interest in the industry's effects on climate change. She will be pursuing critical care nursing in New York City post-graduation while continuing to advocate for decarbonization in health care.
Nicholas Valenta, Sophomore BSN Student at Case Western Reserve University, is originally from Pittsburgh, Pennsylvania. On campus, he is involved in Undergraduate Student Nurses' Association, Global Ethical Leaders Society, Spartan Marching Band, and symphonic winds. He is also a tour guide for undergraduate admissions and an orientation leader for new students. After graduation, he would like to pursue emergency nursing before transitioning into a role within public and/or global health. Nick states that "the effects of climate change will only be mitigated if collaborative, interdisciplinary action is taken and wishes to remind listeners that everyone has a role to play in protecting our planet's future."
Sampada Arora, Junior BSN Student is from Edison, New Jersey. She currently serves as the Vice President for Case Western Reserve's University's Undergraduate Student Nursing Association. Sampada is the director for a large scale Bollywood/Bhangra national dance competition, as well as the senior substance and self leader for SMARRT, a student-led risk management group. Sampada became a certified EMT at the age of 16 and is passionate about pursuing a nursing career focused in critical and emergent care. Her thoughts on climate change: "Yes, it is just as scary as people make it out to be, but that does not mean it is a hopeless cause. We are powerful in numbers and as one of the largest health care professions, if all nurses come together to fight against climate change together, I truly believe we have a winning chance!"
While not present during the podcast interview, the students want to honor their fellow resolution authors:
Annie Franklin is a senior Bachelors of Science in Nursing student at CWRU. She is originally from Beverly Hills, Michigan. Annie is a member of the Student Nurses Association, a member of Alpha Chi Omega, and Treasurer of the CWRU Wilderness Society. Annie has been a long time advocate for environmental health and climate change action. She was a major contributor to the 2021 resolution from the CWRU student nurses association that focused on carbon emissions in the healthcare sector. She has a deep connection with nature that started when she was young, and culminated in her 6-month backpacking journey from Georgia to northern Maine. Annie aspires to be a NICU nurse after graduation and is interested in working in the intersections of climate advocacy and the nursing profession.
Megan Arumpanayil RN, BSN graduated from Case Western Reserve University in 2021 with her Bachelor of Science in Nursing. Megan now works in the surgical ICU at Cleveland Clinic. She serves as a mentor for the Ohio National Student Nurses Association. Megan is a volunteer with Cleveland Botanical Garden and Northeastern Ohio Science Olympiad. Megan believes "it is vital that we continue to learn about climate and its relationship with healthcare. Nurses need to be aware of the impact we have on the environment and should take opportunities to lessen our footprint."
Resources
About the Nurses' Climate Challenge Podcast Series
The  2022 Nurses Climate Challenge series elevates nurses from all walks of life taking action to address the number one public health threat of the 21st century: climate change. Listen in as Nurses Climate Challenge founder Shanda Demorest, registered nurse and outdoor enthusiast, interviews Nurse Climate Champions inspiring others to take climate action. Co-sponsored by ANHE and Health Care Without Harm, the Nurses Climate Challenge is a national campaign with the goal of empowering nurses to educate 50,000 health professionals about the health impacts of climate change by the end of 2022.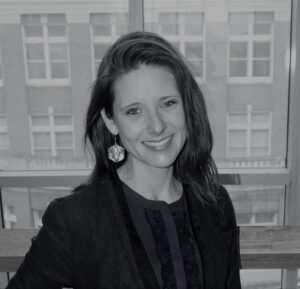 Dr. Shanda Demorest, DNP, RN, PHN (she/her/hers) is the Associate Director for Climate and Health Education at Health Care Without Harm, a global non profit with a mission to decarbonize the health care sector and create transformative change by building climate resilience in support of human health. A cardiovascular nurse with horticultural training by background, Dr. Demorest earned her Doctorate of Nursing Practice in Health Innovation and Leadership from the University of Minnesota.
About the Nurses for Healthy Environments Podcast
Since 2017, Beth and other hosts have interviewed dozens of nurses across the globe, all of whom are working at the intersection of health and environment. Practicing clinical nurses, faculty and educators, policy makers and elected officials, leaders of non-profits, students, and more have shared their work, commitments and perspectives.
There are two primary goals of the podcast. First, to spread the word about the fabulous work of the Alliance of Nurses for Healthy Environments – so we're glad you found us! Second, to highlight and share the amazing and leading work nurses around the world are doing to help protect our natural world in order to support health and healing.
Again and again, nurses are spearheading social change, climate action,environmental justice, and improving health for vulnerable populations, while using their valuable clinical skills, teaching, and caring.  Nurses' work can seem overlooked or taken for granted, and we are here to tell their important stories. We hope you enjoy meeting the nurses in the Nurses for Healthy Environments podcast!
Beth Schenk, Nurses for Healthy Environments Podcast Host
Elizabeth Schenk, PhD, RN, FAAN, is a leader of environmental stewardship in healthcare, where she has been working to reduce pollution from healthcare for 3 decades. Schenk is the executive director of environmental stewardship for Providence, one of the largest non-profit health systems in the United States. She led the development of CHANT: the Climate and Health Tool to understand perceptions, behaviors and motivations of health professionals regarding climate and health. She developed the WE ACT PLEASE framework for environmental stewardship, identifying key focus areas of Waste, Energy/water, Agriculture/food, Chemicals, and Transportation. Schenk serves on the national board of the Alliance of Nurses for Healthy Environments, and on the boards of Montana Health Professionals for a Healthy Climate and Climate Smart Missoula. She lives in Missoula, Montana.