From September 20th – 27th the world witnessed the biggest climate mobilization in history with over 7.6 million people in 185 countries taking to the streets to demand action on climate change. Led by a multigenerational and diverse coalition of organizations, the global climate strikes were held during Climate Week NYC – an annual event alongside the United Nations General Assembly and bringing together world leaders to showcase climate action.
The United States Youth Climate Strike was led by eight national youth-led climate groups, that put forth the following demands for the September 20th Climate Strike: 1) A Green Deal that moves the US to 100 % clean and renewable energy by 2030, through a just and equitable transition, 2) Respect for indigenous land and sovereignty, 3) Environmental justice, 4) Protection and restoration of biodiversity, and 5) Implementation of sustainable agriculture.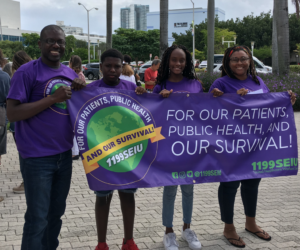 In solidarity with youth, nurses attended climate strikes, rallies, and actions across the globe to demand a better, safer, and healthier future. Nurse leaders Betsy Marville and Angel Allen from Service Employees International Union (SEIU) attended the Miami Beach Student Climate Strike Rally on September 20th. Angel Allen spoke on behalf of the Florida Region of 1199SEIU United Healthcare Workers East about the current and projected health effects of climate change.
In her speech Allen emphasized the impacts that climate change is already having for Florida residents stating, " Floridians are experiencing climate change today and it is a threat to the health of every resident and visitor. My fellow union members and I wholly support the amazing young people who stand up and strike today for the future that our actions today will bring." Elected officials such as the Miami Beach Mayor Dan Gelber and Florida State Rep. Mike Grieco of District 113 showed their support for young people and their commitment to combat climate change.
In Charleston, SC, school nurse Hannah Noel-Bouchard joined with local environmental, youth-led organizations, and conservation groups on September 20th for a rally and opportunity for the Lowcountry to come together to discuss real solutions and ask our leaders to meet the challenge of climate change. Youth speakers such as Rowan Emerson, a sophomore at the College of Charleston, referred to his concern for the environment as a mid-life crisis and encouraged listeners to, "Stop doing nothing because you can't do everything."
One month after the climate strike, youth are continuing to keep the drumbeat strong. A global climate strike is planned for November 29th and US climate strike on December 6th. Nurses, let's join together to stand up for children's health and create a better world for our kids and for future generations!
Photos of Nurses at the September 2019 Youth-led Climate Strikes Across the Country