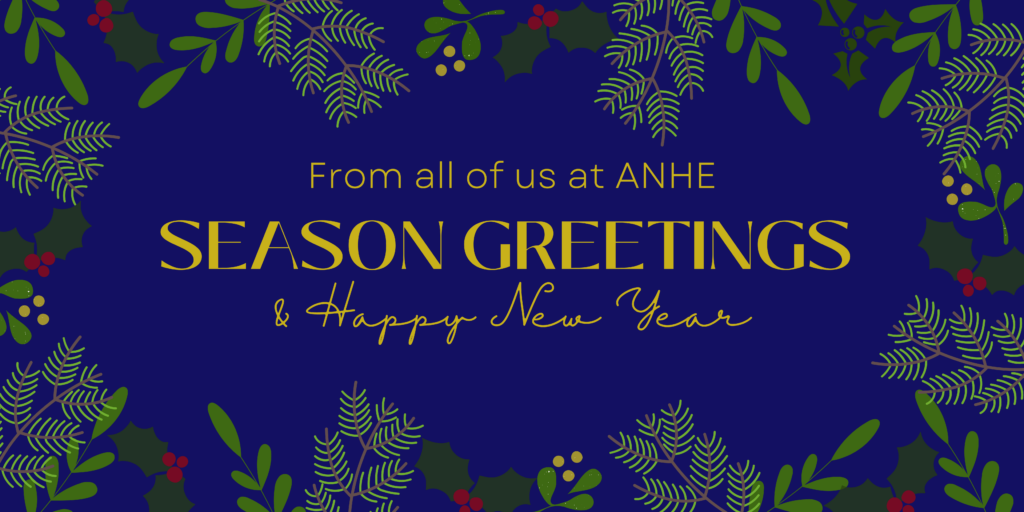 Season Greetings – A Holiday Message from ANHE Board Chair, Tom Engle
Dear Fellow Nurse,
The year is coming to an end. We at the Alliance of Nurses for Healthy Environments want to thank you for everything you have done this year. It has not been easy. You have worked hard to bring civility to our community processes, create healthy environments, and place those efforts in your personal, professional, and policy milieus. We at the Alliance are proud of you. Your dedication through your donations and time to the nursing and environmental work, while mostly without award, is stellar. Please lift a cup of your favorite beverage and accept a toast to yourself.
Nonetheless as Macbeth noted – "Tomorrow, and tomorrow, and tomorrow, …" The new year starts tomorrow. We must examine our resolve. As we real from climate change slow and fast disasters, growing pollution in this chemical stew we swim in, and escalating extinctions, we know the work will not get easier. It will only get more difficult.
While I watched the activities and hopes and promises at COP27 I took the time to go back and look at the CO2 levels in place at the time of the previous COPs. The shape of that line is impressive. Regular. Strong. Consistent. Up. I try to keep track of policies regarding forever chemicals, lead exposure, communities aggressively contaminated. It feels like a whack a mole game with a thousand moles, and I am using a piece of spaghetti as a hammer. Admittedly I do not pay enough attention to extinctions. It has helped my advocacy to find good metaphors – In my area large server farms are cooled not by water, but because of habitat destruction it is better to say they are cooled by salmon and steelhead.
We must continue to tell our friends, neighbors, and nurse colleagues that time is short. They must think that it is not enough to be good, they must also do good. It is not enough to make a point, they must also make a difference. Acta non verba in our personal, professional, and policy milieus. Yes I must be good in my personal life. But also in my professional life, for example, I must tell my organizations to provide only plant-based food at conferences and build into the conference budget climate offset expense. In my policy life, for example, I must tell the local government that provides those tax breaks for server farms to stop doing it in the absence of habitat protection. There are 500,000 elected officials in the United States. My sin is I have not put all of mine on notice.
That cup of yours is still half full. Well probably not. I am wordy. Get a refill. Toast yourself. And please continue to donate to nursing and environmental organizations, both your time and funds you can spare.
Be well. Take care of yourself, and if you can, someone else.

Tom Engle, MN, RN
Board Chair
Alliance of Nurses for Healthy Environments
P.S. Please consider supporting ANHE through a tax-deductible donation so we can continue our vital work promoting healthy people and environments. 
2022 Season Greetings! Holiday Message from Tom Engle, ANHE Board Director