– 

ANHE

 Happenings –
– Everything happening at ANHE, All in One Place –
---
ANHE Forum and Committee Calls
Education Forum: November 8th at 5:30pm ET/2pm PST on Zoom.
ANHE Global Nurses Climate Change Committee: November 18th at 5pm ET/2pm PST on Zoom.
Practice Forum: December 7th at 2pm ET/11am PST on Zoom. Title: Combating the threat of antibiotic resistance in the food production sector – Register here.
---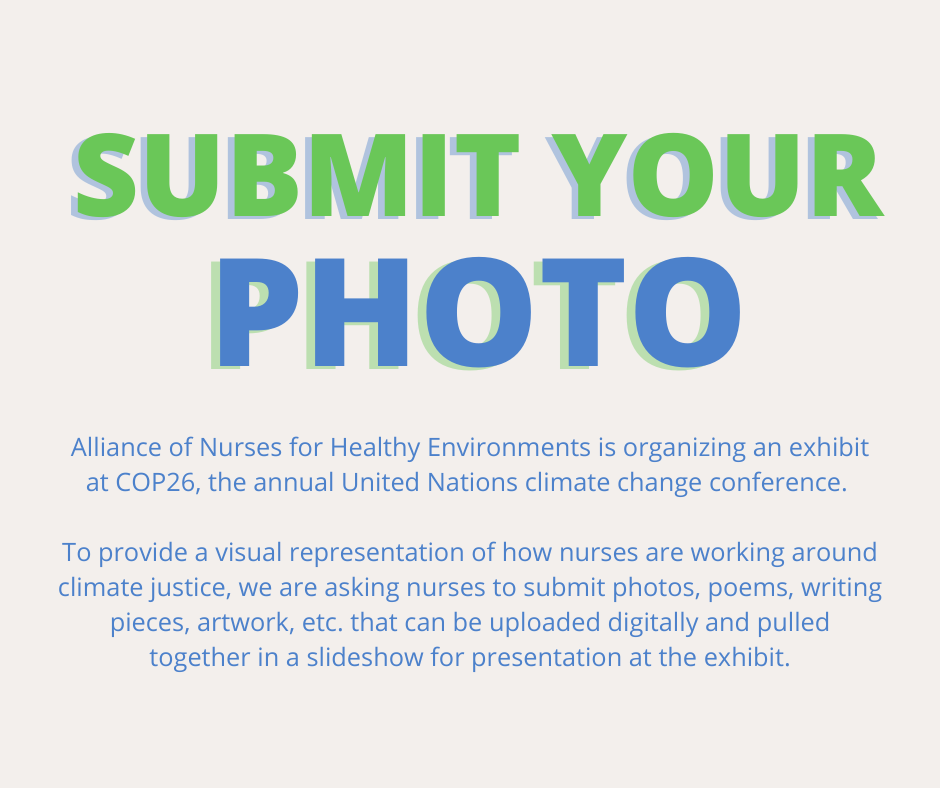 Submit your photo here
---

Season 4, Episode 14: Climate Justice 10 Najeem Al Balushi – A Nursing view from Oman
Najeem Al Balushi, is a senior nurse and a Fulbright Scholar in Oman's Ministry of Health. He received his General Nursing Diploma from Oman in 2007, BSN and Master of Public Health with Health Policy and Administration emphasis from the U.S. in 2011 and 2015 respectively. During his 14 years of experience, he worked in different specialties ranging from orthopedic surgery department to accident and emergency and intensive care unit. In August 2011 he was inducted into Sigma Theta Tau International, Alpha Nu Chapter, Honor Society of Nursing as a community leader.
---
We're having a virtual conference in 2022!
Please fill out this brief survey about your thoughts on the ANHE 2022 Virtual Nursing Summit on Environmental Health
---

JOB POSTINGS!
Kimball Sustainable Healthcare is a sustainability firm specializing in healthcare resource conservation. We help healthcare organizations conserve resources and improve environmental performance by building the tools and partnerships to prevent waste and support quality, safety, and value.
They currently have two job openings:
---
Prenatal Environmental Influences on Fetal Growth and Development
Health professionals are invited to participate in the next iteration of the PEHSU National Webinar Series for this live webinar and phone-based event. This in-depth and interactive series provides a platform for learning and discussion about issues that focus on current and emerging aspects of pediatric and reproductive environmental health.
Date: Wednesday, November 17
Time: 1:00-2:00pm ET
Description: The Southeast PEHSU will present a National PEHSU Grand Rounds webinar on prenatal environmental influences on fetal growth and development. Rapidly developing fetuses could potentially be exposed to harmful chemicals through fetal bloodstream and reach developing organs and organ systems. This could potentially disrupt the programmed development directly through interference at the cellular level. This presentation will examine some of the signal events and discoveries that have informed health professionals' awareness of fetal vulnerability to environmental toxins and provide strategies to prevent potential harm to the fetus and assure a safe and healthy outcome of pregnancy.
---
ACTION ALERT!
Let's make sure our legislators know that nurses demand strong climate and health protections in Build Back Better!
Tell your Representatives that a Vote for Climate is a Vote for Health!
Action on climate change will lessen the suffering caused by hurricanes, wildfires, heat waves and other climate-related severe weather events and improve the health of all.
---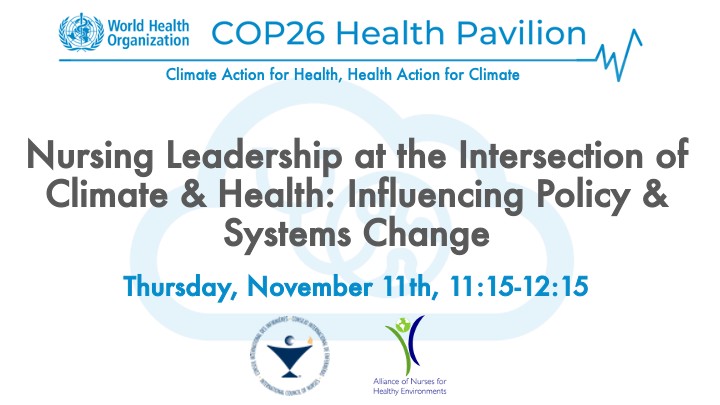 Join us at COP26 for a talk on Nursing Leadership at the Intersection of Climate & Health
Join us for a special virtual event on November 11th @ 11:15 – 12:15 GMT+1 co-hosted by the International Council of Nurses and the Alliance of Nurses for Healthy Environments as part of the COP26 Health Programme. Making up the majority of the health workforce, nurses can make a powerful contribution to both mitigate climate change and to support people and communities around the world to adapt to its impacts. This webinar event will showcase nursing leadership and interdisciplinary cross-sector collaboration on climate change and health. Featuring a panel discussion with nurses around the world, speakers will share examples of nursing leadership in climate action, influencing and advocating for change at institutional, systems, and at a policy level.
Welcome by: Howard Catton, BSc, Econ, MA, RCN, CEO of the International Council of Nurses and Katie Huffling, DNP, MS, RN, AHN-BC, FAAN, Executive Direct of Alliance of Nurses for Healthy Environments
Speakers:
Beth Schenk, PhD, RN, FAAN, Executive Director of Environmental Stewardship, Providence St. Patrick Hospital, USA
Carmen Alvarez Nieto, PhD Department of Nursing, Universidad de Jaén, Spai
Erlinda Palaganas, PhD, RN, University of the Philippines, Philippines (invited)