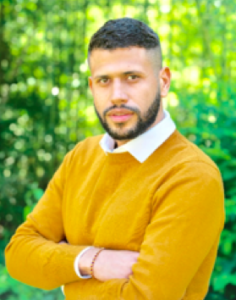 In June 2019, the Alliance of Nurses for Healthy Environments (ANHE) launched the first of its kind Environmental Health Nurse Fellowship program to train nurses to work with communities in tackling serious environmental health threats. Funded by the Kresge Foundation, the program has a particular focus on climate and health equity, environmental justice, and climate resilience. Paired with expert environmental health nurse mentors, the fellows are conducting projects in partnership with communities to build support for community-driven solutions. Learn more about the nurses participating in the 2019-2020 fellowship cohort here.
This month's blog features a Q&A blog with ANHE Environmental Health Nurse Fellow Félix Javier Román Hernández, RN, MSN. Félix is an instructor at the Departamento Subgraduado, Universidad de Puerto Rico, Recinto de Ciencias Médicas, Escuela de Enfermería. Félix's mentor is Dr. Adrienne Wald, Associate Professor of Nursing, Mercy College 
Felix, thank you for your participation in the ANHE Environmental Health Nurse Fellowship program.  What brought you to the ANHE fellowship program, and what excites you about this program?
What motivated me to participate in the ANHE fellowship was the focus on social justice and being able to work with the most vulnerable populations in Puerto Rico through a community-based project. One of the things that most caught my attention about the Fellowship program is the opportunity to bring attention to the disadvantaged populations who suffered multiple losses after Hurricane Maria in September 2017. Children in public schools in San Juan, Puerto Rico are experiencing adverse health effects (such as asthma and respiratory conditions, as well as PTSD) following these environmental-related disasters. Another main motivation to participate in the Fellowship is the opportunity to meet other nursing colleagues from across the nation who have a genuine concern about the impact of climate change and health in their respective states of residence.
Can you tell us a bit about your fellowship project and the partnering community and community-based organization?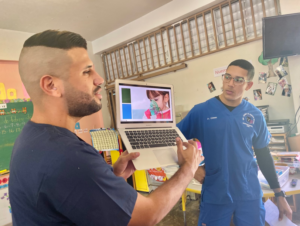 As part of the AHNE Fellowship program, I was involved in a community-academic partnership between the University of PR nursing program (where I am a professor) and several community-based organizations that focused on bringing an air pollution/air quality and asthma management educational program to elementary schools in San Juan, PR. The project was implemented for at-risk elementary school students, teachers, and school nurses using an environmental justice lens. 
In 2014, the prevalence of asthma in children in Puerto Rico was 13.8%, compared to 9.2% in the continental United States. Flooding from climate-related disasters like Hurricane Maria contributes to asthma and respiratory conditions because mold spores and other indoor air pollutants are increased in indoor environments after these floods, often even after remediation is complete. The school-based air quality monitoring program was planned to align with the "Whole School, Whole Community, Whole Child Model". The program aimed to teach at-risk elementary school students and school staff how to monitor air pollution, to recognize the impacts of poor air quality, and how to prevent and manage symptoms of asthma and other respiratory illnesses that can be worsened by poor air quality. During the school inspection, using the EPA-IAQ tools, several environmental triggers (indoor pollutants: dust mites, mold, humidity, and outdoor pollutants: Sahara Dust & other particulate materials (PM) were identified). The education component was done in four phases of the program. The final phase (Spring 2020) certifies the school as the first public school in PR under the "EPA School Flag Program," a national EPA program that encourages schools to monitor and alert communities when air quality is poor. 
Please describe your experience in the fellowship program so far?
The experience of participating in this program is invaluable, as I was able to expand my collaborative networks with colleagues, community members, and public-private agencies focused on school health. I learned about the administrative processes with the Department of Education of Puerto Rico to develop the project in the public school and the importance of first assessing the needs of the community in order to align the program with community priorities and goals. 
There were several unexpected interruptions that I had to adjust to during the project: a magnitude 6.4 earthquake and aftershocks, flooding (floods occurred 3 times during the project), and finally, the COVID-19 pandemic. These events significantly affected being able to complete the final phase of the project and highlight the importance of building resilience in heavily impacted communities. The project will resume after the pandemic situation is controlled and schools are re-opened. Despite the obstacles, I remain committed to working with the school community and with ANHE.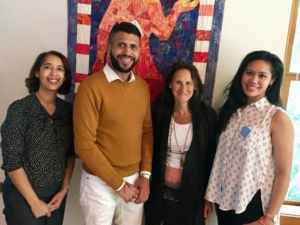 How has the Fellowship program provided you with the tools and resources to address environmental health issues as a nurse working in partnership with communities and community-based organizations?
The support from my AHNE region 2 mentor, Dr. Adrienne Wald, and the AHNE program staff has been helpful in keeping me focused on goals during the project challenges and delays. Dr. Wald has provided guidance in how to share the work I've done during the Fellowship program. I submitted an abstract to present on my project, and it was accepted as a poster presentation for the annual National Association of Hispanic Nurses' (NAHN) conference in 2020. We are discussing how to broaden the project to a research project in the future. The AHNE webinars were helpful in further developing my knowledge of current environmental health issues and provided connection to a network of other AHNE fellows and mentors.
Please describe how the ANHE fellowship program has changed or shaped the way you think about your role and the role of nurses in general in addressing environmental health. How do you think the ANHE fellowship program will impact your next steps or career in the future?
The Fellowship program has transformed my way of thinking and acting as a public health nurse. Participation in the program has taught me the importance of communication and collaboration with communities that struggle to be seen and heard. After phase 4 of the project is completed, the air quality and asthma project will be maintained at the school and will be led by parent volunteers, teachers, and myself. I plan to build on the collaborations that were formed in the program by potentially developing school clubs to promote self-care for children living with asthma. Moving forward, I will be working on research projects with Dr. Wald related to environmental health and promoting environmental justice.
The best outcomes of this experience were the involvement of children, parents, and school personnel in the project, providing self-care tools to children living with asthma, and participants' recognition of the impact the environment can have on respiratory health. 
What recommendations, tips, or lessons learned would you like to share with other nurses who want to get more involved with environmental health initiatives and projects.
Some of the best advice I can offer to a nurse wanting to get more involved in environmental health is: (1) listen to the needs of the community of interest so that they accept, participate, and feel relevant to projects related to the environment and health, (2) take into account the mental health of individuals in any community project, since in these times the constant changes related to global warming have threatened the resilience of the most vulnerable in communities, such as children and older adults, (3) include community members in all phases of projects, and (4) join a community-based group to learn from and elevate the voices of social groups that are often unheard.
Is there anything additional you would like to share?
I would like to thank Dr. Beatriz Diaz, PhD, RN, University of Puerto Rico UPR RCM, School of Nursing, Magaly Massanet, BSN, Abdiel Gomez, BSN student, and School Staff and Community Leader "Cocodrilo" for their collaboration and support.
Félix Javier Román Hernández RN MSN, a faculty member at the Departamento Subgraduado, Universidad de Puerto Rico, Recinto de Ciencias Médicas, Escuela de Enfermería where he teaches Health Physical Assessment, Adult Health and Community Health Nursing. During his past professional experience he has worked for hospital institutions and government programs such as the WIC federal program as a community nurse offering nutrition education, home safety environment, health education, case manager and clinical service to mothers, infants, and children. Felix is a DNP – Public Health Nurse Leader student at the University of Massachusetts at Amherst. In his program, he has worked on community projects focused on the prevention of vector-borne diseases in partnership with government agencies and faith-based groups and utilization of photo-voice to educate community members on waste management in the rural area of Trujillo Alto, Puerto Rico.