Moving Forward: A Guide for Health Professionals to Build Momentum on Climate Action
Climate change is the greatest health threat of our time, and in response, health professionals across the U.S. and around the world are stepping into leadership on climate solutions. Changes to our climate are already impacting communities. These changes reach us all, especially impacting the most vulnerable among us. This is why climate change is also called the greatest moral imperative of our time.
Nurses like other health professionals have an important role in engaging patients, peers, community, and policymakers on equitable climate solutions. This year, 2020, is an important year for nurses. The World Health Organization has designated 2020 the Year of the Nurse and Midwife and it marks the 200th birthday of Florence Nightingale. We are also at a critical point in the fight to address climate change. The World Health Organization has declared climate change as an urgent global health challenge for the coming decade. Nurses continued to be ranked the most trusted profession and make up the largest portion of the health care workforce, and therefore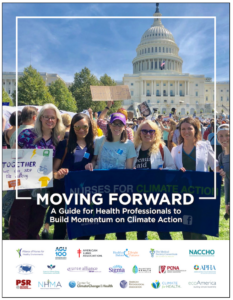 are well positioned to be leaders in advancing climate solutions.
So what can you do? ecoAmerica's latest guide, Moving Forward: A Guide for Health Professionals to Build Momentum on Climate Action, provides you with guidance and tools to reduce energy use, to build resilient clinics and health departments, and to support policies which better integrate health in the center of climate solutions. Nurses at the September youth climate strikes in Washington, DC are even featured on the cover! Check out the guide and implement the tools and recommendations to become a part of the movement to heal the world and protect future generations.
The Moving Forward Guide also complements the  Climate for Health Ambassadors Training Program. ANHE partnered with Climate for Health and Physicians for Social Responsibility to hold a training for nurses and other health professionals in December 2019 in Washington, DC. If you are interested in hosting a training please reach out to ANHE or Climate for Health. Climate for Health and the coalition of health institutions and leaders involved are here to help support visible health leadership on climate solutions and work for climate solutions in your community.
Download the Moving Forward Guide here!
The Climate for Health Moving Forward Guide is the third in the ecoAmerica series. Check out the Blessed Tomorrow Moving Forward Guide and the Path to Positive Communities Moving Forward Guide, which include resources for those working with the faith community and local governments.
ANHE is a partner of Climate for Health, a coalition of health leaders committed to caring for our climate to care for our health. Founded by ecoAmerica, Climate for Health offers tools, resources, and communications to demonstrate visible climate leadership, inspiring and empowering health leaders to speak about, act on and advocate for climate solutions. Learn more about our partnership and the resources available to you here.