The transportation sector is the largest source of greenhouse gasses (1) and the fastest growing emitter of GHG emissions in the United States. The U.S. Environmental Protection Agency (EPA) estimates that the transportation sector contributes 28% of greenhouse gas emissions. These emissions occur primarily from burning fossil fuels for cars, trucks, trains, ships, and planes. Additionally, the transportation sector contributes to unhealthy air quality through emissions of carbon monoxide, nitrogen dioxide, sulfur oxide, and particulate matter. Ozone, formed when nitrogen dioxide reacts in the presence of sunlight, is a common pollutant associated with vehicle emissions. Exposure to traffic pollution is linked to health effects such as asthma exacerbations, diminished lung function, poor birth outcomes, and childhood cancer. (2)
The Road to Zero-Emission Transportation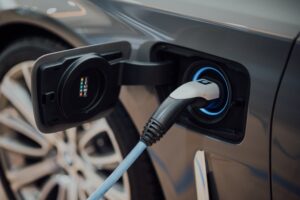 The National Highway Traffic Safety Administration (NHTSA) and EPA are the primary federal agencies that regulate the automotive industry. With authority granted under the Clean Air Act, EPA is responsible for regulating greenhouse gas emissions for vehicles. Through the Corporate Average Fuel Economy (CAFE) program, NHTSA sets vehicle fuel economy standards that a manufacturer's fleet must achieve. Congress, under the Clean Air Act, has further granted California authority to set vehicle standards that are more stringent than federal standards. States can choose to adopt the same standards established by the California Air Resources Board and currently 13 states and the District of Columbia have done so. 
Both the Bipartisan Infrastructure Law, passed in November 2021, and the Inflation Reduction Act (IRA), passed in August 2022, include significant funding to clean up the transportation sector. Since the Bipartisan Infrastructure Law passed, approximately $924.8 million has been announced to invest in roads, bridges, public transit, ports and airports. The Law provides investments of $10 billion for clean public transit and school buses, including a $5 billion investment over the next five years to replace existing school buses with zero-emission and low-emission models. The Law also invests $7.5 billion to build a national network of electric vehicle chargers in the country, helping states to expand electric vehicle charging. The IRA provides new passenger and commercial EV tax credits, EV charging incentives, and a battery production tax credit to help promote a transition to zero-emissions vehicles.
As one solution to the climate crisis and to reduce air pollution from the sector, it is critical that the United States transition to zero-emissions transportation and electricity. The American Lung Association estimates that a transition to zero-emissions transportation and electricity will yield 1.2 trillion in public health benefits by 2050 through saving lives, preventing asthma attacks, and reducing health impacts from climate change. (3) Advancing EV vehicle technology and adoption, expanding access to zero-emissions public transit, and creating walkable communities will help us achieve this goal.  
Opportunities for Nursing Action
NHTSA and EPA finalized CAFE and carbon dioxide emissions standards for model years 2021-2026. The Safer Affordable Fuel-Efficient (SAFE) Vehicles Rule, issued by NHTSA and EPA, sets tough but feasible fuel economy and carbon dioxide standards that increase 1.5% in stringency each year from model years 2021 through 2026. These standards apply to both passenger cars and light trucks. In April 2023, EPA announced proposed standards for light-duty, medium-duty, and heavy-duty vehicles starting with model year 2027. This builds upon EPA's final standards for federal greenhouse gas emissions standards for cars and trucks for model years 2023 through 2026. 
ANHE is ensuring that the nursing voice is uplifted on this important issue. ANHE released a statement applauding EPA's announced proposed rule and is calling on the agency to finalize the strongest possible cars and trucks standards by the end of 2023. We are encouraging nurses to show your support for strong clean cars and trucks by adding your name to our petition to Administrator Michael Regan. Nurses can add their name here! ANHE and nurses across the country are participating in the Route Zero Road Trip, a relay style voyage of EV drivers across the country along parts of the iconic Route 66. The campaign is aimed at uplifting stories from Americans about how they would benefit from reduced tailpipe pollution and cleaner air, where they see opportunities for vehicle electrification, how cities and towns are proactively working towards vehicle electrification, and more. ANHE hosted a Facebook live featuring nurses Jill Aquino and Mary Canales to talk about the health benefits of transitioning to zero emissions vehicles and the ways nurses can plug into the environmental justice and climate action movements. Check out the full conversation here.
References
U.S. Environmental Protection Agency. (2023, May 11). Carbon pollution from transportation. https://www.epa.gov/transportation-air-pollution-and-climate-change/carbon-pollution-transportation
Centers for Disease Control and Prevention. (2009, October 15). Respiratory health and air pollution. https://www.cdc.gov/healthyplaces/healthtopics/airpollution.htm
The American Lung Association. (n.d.). Zeroing in on healthy air. https://www.lung.org/clean-air/electric-vehicle-report#key-findings