Climate Justice Podcast Series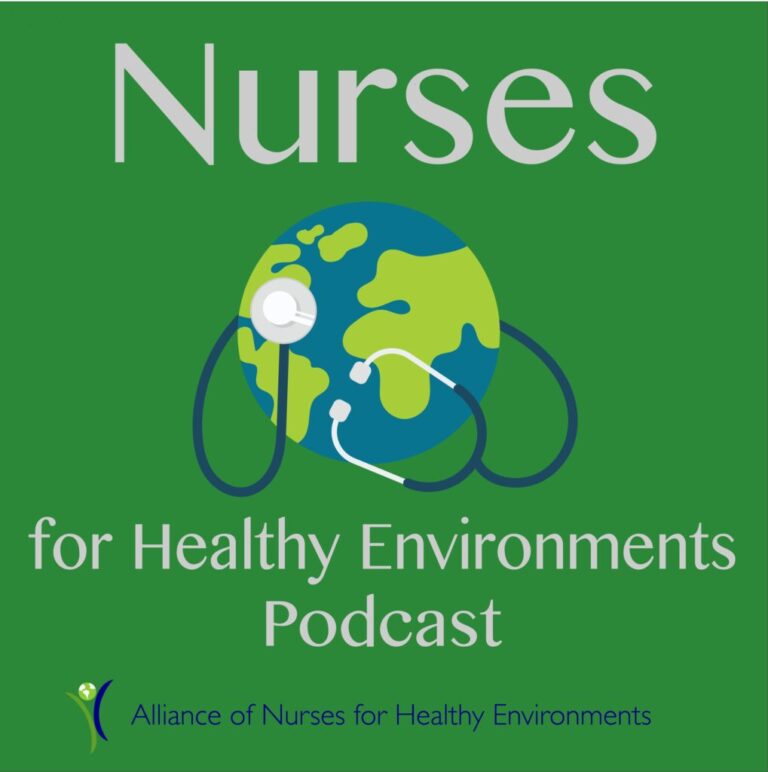 – Nurses for Healthy Environments Podcast –
Episodes on Climate Justice
Season 2, Episode 1: Reversing Roles: Beth Schenk is interviewed
Jeanne Leffers, PhD, RN, Emeritus Professor of Nursing interviews podcast host, Beth Schenk. In this wide-ranging conversation, Beth identifies key features of healthcare environmental stewardship and many ways nurses can get involved. Beth Schenk, PhD, MHI, RN-BC is Nurse Scientist for Providence St. Joseph Health, and Sustainability leader at her single hospital, St. Patrick, in Missoula Montana, as well as across the 50 hospital system. She is assistant research professor at Washington State University College of Nursing. Beth serves on the board of the Alliance of Nurses for Healthy environments, and produces the Nurses for Healthy Environments podcast.
Listen HERE
---
Season 2, Episode 10: A Leader In Science, Justice and Education 
Patrice K. Nicholas, DNSc, DHL (Hon), MPH, MS, RN, NP-C, FAAN is the director of the MGH Institute of Health Profession's newly launched Center for Climate Change, Climate Justice, and Health. The Center is the first-of-its-kind, nurse-led initiative that focuses on addressing ways all health care professionals can respond to the impact of climate change through the  integration of the concepts of climate justice;  social determinants of health; and the intersections among climate change, climate justice, and systemic racism.
Listen HERE
---
Season 2, Episode 19: From Kenya to Tennessee: Environmental Justice Matters
In Carol Ziegler, DNP, APRN, NP-C's practice she works on local initiatives to advocate for improved indoor and outdoor air quality in Nashville's rapidly gentrifying communities. Her scholarly work focuses on improving health in historically marginalized communities through 1) community-based environmental health initiatives and the development and integration of effective models that align community adaptation to climate stress with carbon mitigation policy and 2) the role and integration of traditional healers and community health workers in local and regional healthcare systems. She also teaches an inter-professional graduate course she developed entitled "Planetary Health, Policy and Social Justice"  at the Vanderbilt Institute for Global Health and the Institute for Energy and the Environment. 
Listen HERE
---
Season 2, Episode 20: Rooted in Care…Environment to Nursing
Jessica LeClair, MPH, RN is a clinical faculty member with the University of Wisconsin-Madison School of Nursing, where she integrates climate change and planetary health curriculum into undergraduate and graduate nursing education. LeClair has over thirteen years of experience as a public health nurse with the Ho-Chunk Nation and Public Health Madison and Dane County (PHMDC), where she provided a range of public health services, while also working on population-level equity issues. LeClair serves on the Sustainable Madison Committee, the Dane County Climate Change Council's Community Team and the Wisconsin Health Professionals for Climate Action; she also co-chairs the Global Nurses Climate Change Committee with the Alliance of Nurses for Healthy Environments. LeClair is a student with the UW-Madison School of Nursing PhD program.
Listen HERE
---
Season 3, Episode 16: Kathy Reiner Champions, The Planet for School Nurses
Kathy L. Reiner, MPH, BA, BSN, RN, school nurse and 2019-2020 ANHE Environmental Health Nurse Fellow, discusses how promoting equitable access to green space can help advance social and climate justice. Through her involvement with the National Association of School Nurses and focus on promoting healthy communities, including healthy school environments, and climate justice, she aims to advance the organization's vision that all students will be healthy, safe, and ready to learn.
Listen HERE
---
Season 3, Episode 20: Annabell Castro Thompson – A Bright Light for Health Equity
Anabell Castro Thompson, MSN, APRN, ANP-C, FAAN, FAANP is a Nurse Practitioner and Senior Vice President of Health Equity at Equality Health. Anabell's leadership exemplifies sustained commitment towards improving healthcare for vulnerable and underserved communities, especially Latino Communities. On this podcast, Anabell talks about how climate change is impacting the health of communities in Phoenix. In her work addressing health disparities in her community, she emphasizes the importance of managing innovative programs and strategic initiatives around Cultural Care Models and the Social Determinants of Health.
Listen HERE
---
Season 4, Episode 4:  Dr. Adrienne Wald – Promoting Health and Justice – Dr. Adrienne Wald
Dr. Adrienne Wald, EdD, MBA, RN, CNE, MCHES is an Associate Professor at Mercy College School of Natural and Health Sciences, Nursing Program.  Dr. Wald is a longtime activist on anti-war, environmental issues and climate change impact on health, opioid epidemic, and gun violence. On this podcast, Dr. Wald discusses how we can utilize lessons learned from the fight against Big Tobacco and apply these in strategies to promote climate justice and environmental health. 
Listen HERE
---
Season 4, Episode 6: Dr. Robin Evans Agnew – Creative Caring for Communities
Dr. Robin Evans-Agnew explores caring for all things as a nursing focus. From working with Mother Teresa in India to working toward environmental justice in the Pacific Northwest, he brings the impulse to care for all things. He is co-leading ANHE's Climate Justice in Nursing Steering Committee, and is the first host of the Climate Justice Series of the podcast. 
Listen HERE
---
Season 4, Episode 7  Climate Justice Series 1:  Joanna Law – Green Teams in Canada
On this podcast, Joanna Law, RN discussed the impact of health care waste on community and planetary health, particularly for frontline communities, and how she is working to reduce waste in Canada. She emphasizes how nurses can be at the forefront of sustainability initiatives. 
Listen HERE
---
Season 4, Episode 8 Climate Justice 2: Dr. Faith Nawagi – Educator and Champion in Uganda
Faith Nawagi, RN, BSN, PGC. Clin Epi, MIPH, PHD-HPE is the Africa Regional Hub Chair of the Nursing Now challenge,  and as African Representative for ECFMG|FAIMER. She currently serves in a global health academic role with the University of  Minnesota, Institute of Environment, ACARA program where she focuses on climate change from the perspective of low-income settings like Uganda where she is located.
Listen HERE
---
Season 4, Episode 9 Climate Justice 3: Dr. Sr. Jackline Mayaka – Supporting Climate Health in Kenya
My name is Sr Jackline Mayaka, a Franciscan sister of St Joseph. I'm a Kenyan by birth and a first born in a family of eight. I hold bachelors, Masters and doctor of philosophy in Nursing degrees from Villanova University. I have 20-year experience in health care, 13 years working experience in Kenya and 7 years as a student in the USA. Currently I work as a Director of nursing services at Christamarriane Mission Hospital-Kisii in Western Kenya. My main work is overseeing the clinical and nursing patient care within the facility. I'm also engaged in continuous medical training of our staff as well as providing professional advice to the hospital governing body within the facility in terms of patient care and nursing staffing. In the past, I have been engaged mostly in maternal- child- health, carrying out administrative duties in primary care facilities in rural communities in Western Kenya. I also had a privilege to serve the HIV/AIDs clients sponsored by CRS and Kenya AIDs response program KARP. As a religious nun, I worked in the Catholic diocese of Homabay as a medical coordinator alongside other duties. Therefore, all these experiences have made a self-driven individual with passion to promote the nursing science especially in a low income country like Kenya. 
Listen HERE
---
Season 4, Episode 10 Climate Justice 4: Tammy Davis – Committed to Community Service
Tammy Davis, BS, RN exemplifies a commitment to community service through promoting environmental justice for communities in Alabama. On this podcast Tammy discusses the work she did in partnership with Black Belt Citizens Fighting for Health and Justice during the ANHE Environmental Health Nurse Fellowship. 
Listen HERE
---
Season 4, Episode 11 Climate Justice 5: Iira Tiitta RN, MHSc  – Caring for the Elderly in a Warming Climate
Iira was born in Kuopio, Finland, and has been working as a nurse since 2013. She received her Bachelors of Health Sciences in 2018 University of Eastern Finland in Kuopio and completed her Masters in Health Sciences degree there in 2019; her thesis was entitled "Finnish registered nurses' observations of health effects related to climate change." She has presented on this and related topics at international conferences and is currently a PhD student at UEF where she continues to develop scholarship on nursing education and climate change. She currently practices as a home health nurse.
Listen HERE
---
Season 4, Episode 12 Climate Justice 6: Dr. Lizeth Veliz Rojas – Creative Educator and Public Health Nurse in Chile
Dr Rojas is a University Professor at the Faculty of Medicine of the Universidad Católica del Norte, Coquimbo, Chile. She is also the President of the Group of Ecologist Nurses of Chile and leader of the good coexistence group ANHE Latinoamerica.  She has work experience in the field of primary health care.
Listen HERE
---
Season 4, Episode 13 Climate Justice 8: Bradley Thompson, MSN, RN-BC, PMHCNS-BC – Nursing is Nothing Without Action
Bradley has worked as a nurse and educator in both outpatient and inpatient mental health settings, and will soon be joining the Veterans Health Administration. He is one of the founders of 350 Tacoma, a local chapter of the international climate justice movement, and he also volunteers as an environmental site steward of qʷiqʷəlut, a small salt marsh located deep in the industrial Tacoma Tideflats on tribal treaty territory of the Puyallup Tribe.
Listen HERE
---
Season 4, Episode 14 Climate Justice 9: Dr Connie Nguyen-Truong, Dr Shameem Rakha – Deconstructing Racialized Experiences
Listen HERE
---
Season 4, Episode 15 Climate Justice 10: Najeem Al Bashuli – A Nursing view from Oman
---
Season 4, Episode 16 Climate Justice 11: De-Ann Sheppard – The Heart of Cultural Safety
Listen HERE
---
Season 4, Episode 17 Climate Justice 12: Nurses at COP26!
Listen HERE
---
To listen to and/or subscribe to all ANHE podcasts, visit envirn.org/podcast.
Climate Justice Podcast Series