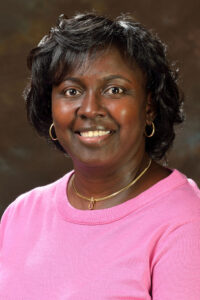 Today's Nurses Week Profile follows Monica Harmon, a public health nurse, clinical instructor at the University of Pennsylvania School of Nursing, and doctoral student at Villanova University.   
As a public health nurse, one of the biggest environmental issues Monica Harmon noticed when caring for urban populations in Philadelphia, PA was the impact of poor indoor air quality and the built environment on health outcomes. In her work, she noticed that certain populations bear the burden of environmental exposures and associated health outcomes, which is especially exemplified during times of extreme heat, cold, or weather events. Based of her clinical experience, of importance to Monica is instilling knowledge of the social determinants of health impacts on vulnerable communities to the undergraduate and graduate students that she teaches, so that they are prepared to adequately address population health needs.
Monica is also an active member of the local chapter of Southeastern Pennsylvania Area Black Nurses Association (SEPABNA), an affiliate of the National Black Nurses Association (NBNA). Aligned with the mission of NBNA, members lead in advocating on some of the most pressing health concerns that impact populations represented by the organization's membership. In addition to the work NBNA does on a national level around environmental health issues, such as releasing policy statements on brain health and the Flint, Michigan Water Crisis, SEPABNA has been vocal around these issues through their coalition building and community engagement.
As a doctoral student and research assistant, Monica continues to focus on improving health by reducing environmental exposures. Currently, she is involved with studying the effect of indoor air quality interventions on respiratory health in high-risk neighborhoods in Philadelphia. For Monica, ensuring a healthy environment is crucial to her role as a nurse. She emphasizes that, "Individual health starts, continues, and ends in places we live, earn a living, grow, and explore. A healthy environment improves an individual's quality of life and decreases the disease burden."
Monica J. Harmon, MSN, MPH, RN is a native of Philadelphia. She has been educated in the Philadelphia Public School System. She has been a registered nurse (RN) since July 2000 and has graduated from the Philadelphia area's finest institutions of higher learning – Community College of Philadelphia (Associates Degree in Nursing, 2000), Thomas Jefferson University (Bachelor of Degree in Nursing, 2001 and Master of Science in Nursing Degree, 2007), Drexel University School of Public Health (Master of Public Health Degree, 2006).
Professionally she has practiced in a variety of settings working with vulnerable populations such as prisoners and mothers and babies. Practice areas include in-patient pediatrics, home health, prisons, schools, and group homes for individuals with intellectual disabilities. Research activities included the study of detained adolescent females in Philadelphia, maternal and child fatalities, diversity in nursing, and community/public health nursing faculty. Currently, Monica is a co-investigator of grant-funded research focusing on competency-based workforce development of public health nurses and baccalaureate nursing faculty.